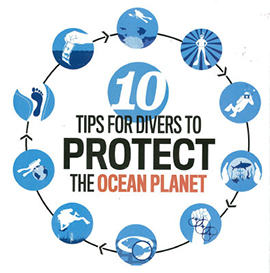 When you become immersed in an outdoor lifestyle sport like diving, most likely, you have an affinity or a deep love, even, for the underwater world. You'll probably want to know how to be a 'good' diver and then eventually, how to use your skills to help protect the dive sites you love most.
Just like climbers and campers have an ethic or code to live by – so do scuba divers. Project AWARE first launched an ethic more than two decades ago. Today, it's no secret that the world – including the underwater world – is changing rapidly. This includes the ever-increasing and shifting threats to our ocean planet. But also the way we live, travel and even the way we learn to dive is evolving. When thinking about overhauling the Project AWARE philosophy for divers, the focus was on top ocean issues globally – specifically where individual scuba divers can make a difference when they travel, dive, photograph and more.
You can download and share the full version of the new 10 Tips for Divers to Protect the Ocean Planet from  www.projectaware.org. Thank you for doing your part to protect the ocean and take these tips to heart each time you dive.
10 Tips for Divers to Protect the Ocean Planet
Divers share a deep connection with the ocean. You can make a difference for ocean protection every time you dive, travel and more.
Be a Buoyancy Expert
Be a Role Model
Take Only Photos – Leave Only Bubbles
Protect Underwater Life
Become a Debris Activist
Make Responsible Seafood Choices
Take Action
Be an Eco-tourist
Shrink Your Carbon Footprint
Give Back
Have you got a diving tip of your own that you would add to the list?
For the full version visit www.projectaware.org/project/10Tips