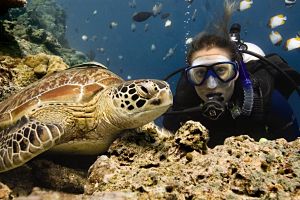 As part of your open water training, you learned the truth about common scuba diving myths such as:
Sharks eat scuba divers
You have to be an excellent swimmer to dive
Diving is only for people who live in the tropics
Today we're going to bust some myths about the PADI Advanced Open Water Diver program.
Myth #1 – I haven't been a diver very long; I'm not ready to become an "advanced" diver
The PADI Advanced Open Water Diver course is for divers who want to gain more underwater experience while diving with a PADI Professional – or have fun learning new things. In addition to logging more dives, you'll fine-tune skills learned during your open water diver class, such as navigation and buoyancy.
Myth #2 – The PADI Advanced Open Water Diver Course is more challenging than the entry-level program
The PADI Open Water Diver course covers a lot of material and can be intense. Your instructor brought you from a nondiver to someone who can dive with a buddy on your own. Now that you're familiar with the basics of diving, it's time to start exploring and having fun – and that's what the PADI Advanced Open Water Diver course is all about.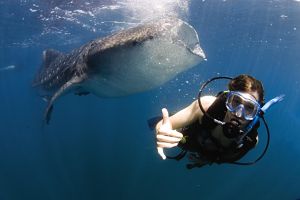 The Advanced Open Water Diver program is basically five Adventure Dives – think of it like a specialty sampler. You can choose from: wreck diving, underwater photography, enriched air nitrox, night diving, underwater naturalist, fish identification, dry suit diving and many more.
In the Advanced Open Water Diver program, classroom time is minimal – if there is any at all. There's even an online option. Either way, the main goal of the program is to dive and have fun. There aren't any tests and you can complete the program in as little as one weekend, or take it one dive at a time. Talk to your instructor about upcoming adventure dives in your area.
Myth #3 – You can't take a scuba class while on vacation
What better way to try different kinds of diving? Here are some popular dive destinations and adventure dives you could try:
Florida, USA: Wreck, Boat, Underwater Photography, Enriched Air, Peak Performance Buoyancy
Hawaii, USA: Diver Propulsion Vehicle, Photography, Underwater Naturalist, Night, Boat, Enriched Air
Cozumel: Boat, Drift, Underwater Photographer, Night, Fish Identification, Deep
South Pacific: Wreck, Deep, Enriched Air, Underwater Photographer, Fish Identification, Underwater Naturalist, Drift
Myth #4 – I learned how to dive in my open water class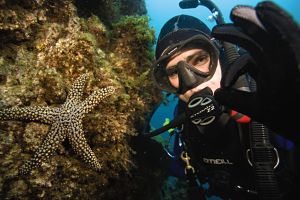 Yes and no. The open water program teaches you the basics and how to dive safely. While many people are "naturals," perfect buoyancy and underwater navigation doesn't come easy for everyone. In the PADI Advanced Open Water Diver course, you can fine-tune these skills with tips and suggestions from your instructor. You can also learn to safely explore wrecks, dive to deeper depths and even ride an underwater scooter under the helpful guidance of your PADI Instructor.
Underwater photography is another skill you can learn through trial and error, but this method can be time-consuming and frustrating. A PADI Professional will help you avoid common pitfalls (such as backscatter) and help you get shots you'll be proud to share.
For more information contact your local PADI Dive Center or Resort.