Traditionally, Gurus are all about expanding their consciousness. This can come in many forms – some of them illegal. But, keeping with those on the correct side of the law, divers are constantly on the lookout to open their eyes, expand their consciousness and broaden their horizons – in the dive sense.
You're likely pretty familiar with the standard places to dive. The ocean. A lake. It's more than likely you've been in one or the other. I'm sure that more than a few of you haven't been in either of those places which, to be honest – expands my consciousness a bit.
But I digress.
There are a huge number of places you can dive and the bounds of the human ability to conceive and implement a dive site are simply mind-boggling. You actually CAN dive anywhere – and where there's water, if it's deep enough, divers will find a way to get under it.
Here's a list: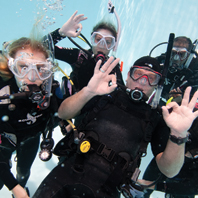 Pool – Sure, you remember the pool from your introductory dives or confined water dives during your PADI Open Water Diver course. And, pools are a great way to keep in the water and keep your skills current. The Guru has nothing against pool diving.
But – the definition of pool has expanded. Now, "pools" can include these:
monte mare – In Rheinbach, Germany you can find a large indoor dive complex with depths ranging down to 10 metres/35 feet and a constant 28° C / 82° F water temperature.
San Alfonso del Mar – Currently the biggest pool in the world, it covers 7.7 hectares/ 19.0 acres and has a 35 metre/115 foot deep end. Who knew you'd need to take a boat to get to a dive site in a pool?
Aquarium – Ok, so this is – essentially – a pool. But, it's a pool with a lot of real stuff in it. Plus, everyone gets to look at you through the glass and make funny faces. There are many to choose from but here's one – check out what the Downtown Aquarium in Denver, Colorado, USA has to offer.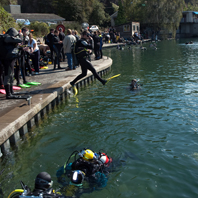 Quarries, Mines and … Other – Man made, man-caused or just plain there, these inland dives spots are the sites of numerous newbie dive excursions as well as the daily drenching for the more experienced. The United Kingdom even has an online guide. But that would be leaving out the odd abandoned mine like Bonne Terre in the USA. But, if you want a truly surreal experience, Bonneville Seabase in Utah, USA is in the middle of the desert, surrounded by wintertime snow. Yet it boasts warm, salt water – complete with tropical creatures – thanks to some geothermal vents.
Lakes – From Russia's Lake Baikal to Australia's Lake Eacham to Africa's Lake Malawi, divers have found a way to get underwater in some of the world's fresh water environs. If lake diving is good enough for James Cameron, it's good enough for the Guru.
Rivers – I've always thought the Kiwis were a bit crazy but now I know. They're crazy like foxes and know how to maximize what they've got in their stunning country. Take a cold river with a strong current, for example. Normal people look at that and think that it's probably not even good for fishing. Kiwi divers? They strap on an extra layer and try to avoid bungee jumpers dunking their heads as they rip downstream.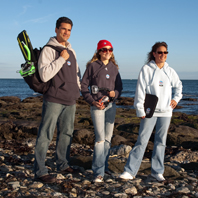 Ocean – This one is a no brainer and gets all the press. But, I'd be remiss to avoid talking about it. From simple shore diving to the far-flung seamounts and reefs you can only reach by liveaboard dive expedition, there are about a billion spots to get into the sea on this ocean planet so I won't get too far into it. But, there's one special place that I do want to mention. If you're ever wanted to be an aquanaut, the Jules Verne Undersea Lodge is the place to do it.
Missile Silo – If you didn't live through the Cold War but always wanted to get the vibe, there are a couple of places you still can. In the US, there are a couple of diveable missile silos. Sorry, missiles not included.
And, if you're desperate – like a certain Guru might have been (and I stress might) years ago, you can actually dive in your bathtub. Of course I've always wanted to fill up the shower.
What have I missed? Let me know.
---