You might think that Dive Gurus™ are just born that way. Completely knowledgeable. Savvy. Suave. And, of course, incredibly handsome. Unfortunately, it's not the truth. Ahem. Except for the handsome part.
It's somewhat painful to recall, but there was a time at which this particular Dive Guru wasn't quite the upstanding citizen that you see before you today. In fact, the young guru wasn't really upstanding at all. Call it youthful rebellion. Regardless, I share this experience today as a warning and hope you won't make the same mistake.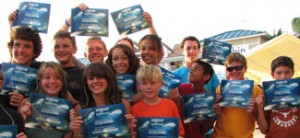 Image courtesy of Kids Sea Camp
At one point, the young yet-to-be-Guru was quite the carefree youth. Carefree about the environment. Carefree about the Guru's place in the world. The young guru wasn't one of those who tossed debris out of the car window while heading down the motorway. But, the guru certainly didn't see the problem in it.
And yes, I'm referring to myself in the third person. It's less painful that way.
But, all it took was one eye opening experience for the Dive Guru to change his ways and become citizen of the month when it came to the environment. On a dive trip to Palau, the Guru took part in an extraordinary event. We went to a little known island that was closed to diving. Under the close watch – and assistance – of the local military, we scoured the beach and underwater environments around the island and freed it from the debris that had been accumulating there.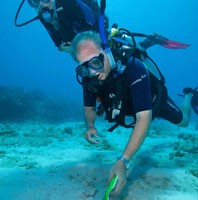 It wasn't just the chance to dive in an area normally off limits, it was the appreciation of the people living there that made the Guru realize that there really is much to be said for giving back, volunteering and simply caring for our planet and the people on it.
Now, I'd have to say that the Dive Guru is a huge advocate of combining what we all love – diving – and giving back to the local communities that call those beautiful areas home. Whether it's a simple beach cleanup or something more complex like volunteering for an actual scientific study, the opportunities abound.
The Guru found a new level of personal maturity. Seeing new places, new cultures, new faces and being able to give thanks in some small way makes the entire experience that much more meaningful for everyone involved.
So what should you do if you want to get involved with volunteerism, citizen science and giving back to the places you visit? First, you can contact Project AWARE to see if there are any opportunities available where you're going to travel. Next, get in touch with the destination itself and tell them that you'd like to do something for the location if at all possible. Check the PADI Dive Shop Locator for contact information. Third, if you'd like to take things into your own hands, consider taking some PADI Specialty courses – such as Peak Performance Buoyancy, Project AWARE Specialist or Digital Underwater Photographer – to hone your skills. It pays dividends not only on your trip but you'll be an environmental steward every time you dive.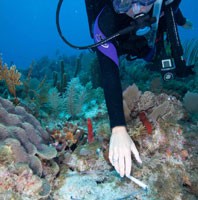 So, have you incorporated this volunteerism into your life and dive travel already? Or, are you planning to? If you want to get some ideas or see what other people around the world are doing, check out the PADI Sea the Change video contest. You could do some good and take home some cash while you're at it. While Gurus are beyond worldly possessions, they certainly understand how a cash prize helps bring home some groceries.
It took a bit of time and a bit of travel but the Guru now considers himself an upstanding citizen. Not just of the local community but of the larger community that is coming together to support our planet.
What are you doing to make yourself a better citizen? Let me know.
---
Can't get enough of the Guru? Read past installments here: