The Guru has a confession to make. The Guru is terrible when it comes to shopping. It's not an easy admission to make but that's the case. After making some rather unwise shopping decisions (Snuggies and ShamWows! anyone?), the Guru decided that some help was in order.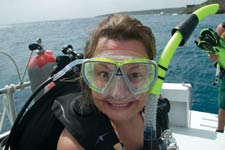 So here's the Guru's holiday gift giving tip – use a list. No more getting the divers on your holiday gift list something they don't want or don't need. Without further ado, here's the Guru Holiday Gift Guide designed specifically for you:
Give the gift of diving. Well, might as well start with the obvious. If you have a nondiving friend, family member, colleague or someone special, start with a Discover Scuba Diving experience at your local PADI Dive Center or Resort.
Open the underwater world. Sure, discovering diving is great, but what about opening up a whole new world with a PADI Open Water Diver course? You can even give your someone special a head start by gifting a PADI eLearning Gift Pass.
Already have that special diver in your life? Show them how special they really are by giving them a PADI specialty diver program. Again, PADI eLearning® is a great way to give an Enriched Air Diver or Digital Underwater Photographer program.
What's even better? Giving them a place where they can use their new certification after they earn it. Dive travel is a great way to tell someone you really care and you get to go somewhere cool. Self serving? Yes. An epic gift regardless. Yes. Contact your PADI Dive Center or Resort or PADI Travel Network to get started.
The Ultimate Dive Trip. Imagine it – pristine reefs, crystal clear warm water, idyllic beaches and big drinks with tiny umbrellas. Oh, and 40 of your closest friends. That's right – I'm talking Total Sub. It's in Grand Cayman from 9-16 June 2012 so you have enough time to let the anticipation build.
Ease the burden. Not everyone is a guru when it comes to dive planning so why don't you make it easy and give your favorites a PADI eRDP

ml

? As much fun as The Wheel might have been (along with my favorite video from the 80s, Diving with The Wheel), now you can use this simple dive calculator to plan your multilevel diving. Small, easy, convenient and a great stocking, err, bootie stuffer.
A gift for your forgetful friend. Ever had dive buddies forget their certification cards? Well, they might forget their cards, but they never forget their phones. That's why the PADI eCard™ is so great. It's a replacement for the plastic certification card that you store on your smartphone or other mobile device and is hosted through the PADI App. It'll be available soon.
Help someone be the know it all. With the PADI Encyclopedia of Recreational Diving, your best boffin friends can be the know it all that they always knew they were. It's chock full of just about everything you ever wanted to know about diving. Get it from your PADI Dive Center or Resort.
Keep up with the Joneses. The Guru can't keep with all of the new, cool, exciting dive gear. I swear that equipment manufacturers are doing some amazing things with all their gear. Head to your PADI Dive Center or Resort and ask them what's new on the dive gear front and help your best underwater friend be the envy of everyone in the dive group.
A homemade card never hurts. One of my favorite gifts was the homemade card with a hand-drawn coupon good for one day of local diving with the Guru's favorite person. This is a great gift because you're giving the gift of time and getting to do what both of you (or more than two of you!) love to do – get underwater.
I hope that helps. I know I already have a plan for my holiday delights. What's your ultimate scuba gift? Make sure to share in the comments below. Happy holidays!
---
Can't get enough of the Guru? Read past installments here: