The Guru loves sharks. No, really. The Guru even spent life before guru-hood studying and trying to save them. Now, that doesn't mean that as a small Guru in diapers I wasn't scared witless when the film Jaws came out, but I learned early on that sharks were truly amazing creatures and it was only a few of them that had the capacity to leave you awe-stricken, breathless from fear, breathless from admiration and in dire need of a toilet at the same time.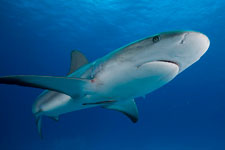 For the most part, sharks are amazing. And, they're more amazing when you see them in person. Even the Dive Guru can't come up with an adjective better than "more amazing" when it comes to seeing sharks underwater – words simply can't do the experience justice.
So, in honor of my dermal denticle-skinned friends and all they do for the marine environment, here is the Guru's by-no-means-complete-or-comprehensive-but-I'm-the-one-writing-so-it's-my-list-and-I-can-do-what-I-want-Top Five Places to See Sharks:
Number Five – The Maldives
While you probably can see reef sharks at nearly any reef around the world, why not go see them in the Maldives? You can see white tips, black tips and even the occasional zebra shark. The most important part of all of this? You're in the Maldives while you're doing it. The government there made the waters a shark sanctuary in 2010 so why not reward their foresight?
Number Four – Gansbaai/False Bay, South Africa
It can be cold. It can be rough. The fish are big and toothy. While it might not be for everyone, how often can you actually come eye to eye with an animal and realize that you're either equal to them on the food chain or lower? Great White Shark diving is huge in South Africa and Capetown and Gansbaai are at the epicenter.
Number Three – Raja Ampat, Indonesia
There are a lot of reasons to dive here but looking for high-adrenaline shark action with the wobbegongs shouldn't be one of them. It's more like watching domesticated house cats on a cold day next to a warm fire. That said, diving with the wobbies is one of my favorite past times as seeing piles of them on the ocean floor never ceases to make me smile. Either way, this is a great example of a true shark that defies our typical preconceived notion of what a shark looks and acts like.
Number Two – La Paz, Mexico
Two words – schooling hammerheads. Although the Guru's experiences among the offshore seamounts here haven't run to the schooling variety and the population there has declined, coming face to face with bizarre, fascinating, humbling fish is something I will always remember. Especially because they averaged about 3 metres/10 feet.
Number One – Ningaloo Reef – Western Australia, Australia
Are they whales or are they sharks? The Guru doesn't know and the Guru doesn't care. Wherever they are is where I want to be. These magnificent creatures truly are the gentle giants of the sea. Oh, and for the record, they're sharks and yes, I did know that. Ningaloo is remote, rugged and spectacular. Seeing a whale shark is just the icing on the cake.
So that's the Guru's list. It isn't a complete list by any means so the Guru reached out for help and asked the dive travel specialists at PADI Travel Network for their expert recommendations on the top ten shark sighting locations. Here's what they came up with:
Tahiti (especially Moorea, Rangiroa and Fakarava)
The Bahamas (Nassau and Grand Bahama Island)
Guadalupe Island, Mexico
Cocos Island, Costa Rica
Palau (Don't Forget About Shark Week!)
Port Lincoln, Neptune Islands, South Australia
Aliwal Shoal, South Africa
Wolf and Darwin Islands, Galapagos Islands, Ecuador
Beqa Lagoon, Fiji
Layang Layang Island, Malaysia
If you'd like to check out one of my top five – or any of their top ten – get in touch with PADI Travel Network and they can get you there.
The Guru would be remiss by neglecting to mention that sharks around the world are vitally important to the marine ecosystem we all love. Unfortunately, many species are still under pressure and threat from human activities like overfishing, bycatch and finning. Head over to Project AWARE and find out how you can help save sharks around the world.
So do you already have a favorite shark sighting spot? Or, is there somewhere that's at the top of your shark travel list? Think my top five list is rubbish? Tell me in the comments below.
---
Can't get enough of the Guru? Read past installments here: