Around the Guru household, the coming of the New Year is a time of peace, quiet and reflection. While the "lesser mortals" were off carousing, loudly ringing in 2012 and generally making a nuisance of themselves, Guru and company were pondering the past and considering how they might better themselves and mankind in the upcoming year.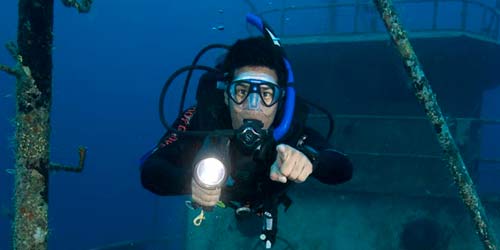 Ok. That sounded really boring. Even to me. While the reality of New Year celebrations in the Guru household might not be much more exciting, they aren't quite that bad.
Anyway, I digress.
Simply put, the Guru has spent part of the holiday thinking about the past and considering the future. Conclusion? Even Gurus need to grow and now is the time. Here are the Guru's resolutions to grow in 2012:
Dive Gear Evolution – As you might expect, a Dive Guru can—and should be expected to—dive in just about any gear configuration known to man. That's what being a Guru is all about, right? Unfortunately, this can get insufferably boring. There are only so many dives you can do in crystal clear, warm and tropical water surrounded by frolicking dolphin, right? To this Guru, that means checking out the latest dive gear and putting it into good use. There's a couple of new technologies making their way into recreational diving that the Guru is very excited about – namely recreational sidemount configurations and recreational rebreathers with the PADI Rebreather Diver course. Looks like it's time to shake it up so the Guru doesn't get stale and lose that dive edge.
Underwater Camera Protection – In a uniquely unGuru fashion, the Dive Guru is known for the spectacular ability to kill cameras. Small, cheap point and shoot? Dead. Large, expensive SLR? Dead. Everything in between? Dead, dead, dead. If there is a way to flood an underwater housing, this Guru will find a way to do it. In fact, the Dive Guru might be onto a retirement career idea – destructive testing for underwater housing manufacturers. Anyway, it has been a goal for a long while. Proper underwater photography with a cost of entry that doesn't include TWO (or more!) cameras. A good goal, don't you think?
Grow a Heart – This year, the Guru wants to recognize how much diving has provided and give back. I don't think my heart needs to grow three sizes, but so much of my Guru experience revolves around the water – how can I give back? Easy–by helping protect the environment that makes diving possible. That's why the Guru is supporting Project AWARE in the New Year. Plus, the Guru is partial to sharks, which is good because that's one of Project AWARE's major efforts this year – helping Sharks in Peril. The Guru is soliciting signatures for Project AWARE's shark petition. You can help Give Sharks a Fighting Chance by signing a petition to help close loopholes in existing shark management policies and insisting on full protections for endangered and critically endangered sharks. One caveat: Adults Only – you must be 18 years of age to sign.
So, that's the list for the Guru in the New Year. It might be a bit ambitious, but even if the Guru only achieves half of these New Year goals, well, the Guru will be an even better Guru. Ok, that didn't make much sense. But you know what I mean.
How are you planning to better yourself and your dive life in 2012? Tell me in the comments below.
---
Can't get enough of the Guru? Read past installments here: