The Guru has been giving a lot of thought to leadership lately. It might be because I'm feeling my age. Or, maybe there's a lot a political turmoil in the world today. Then again, it might just be the greens I ate. I eat broccoli because it's good for me, not because it agrees with the stomach.
Regardless, dive leaders touch a lot of people in a profound way — frequently without even realizing it. And, the effect that it has on the friends of those people. And the friends of those friends. And so on.
Don't get the Guru wrong. I understand that diving is not on par with ending malaria, curing cancer or discovering the Fountain of Youth. But, for something that is a pleasant recreation, it's remarkably life changing. It can transform people and change their lives for the better.
A recent conversation with a friend led, as it often does, to diving. She told me a little secret – she didn't really enjoy diving at first. But, a person in a leadership position changed all that.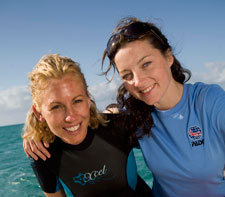 For Anna, it started way back when she was eight and she nearly drowned. For a lot of us, that'd be enough reason to stay away from the water. But, sure enough, she found herself in a pool, learning to dive.
She got along fine with her instructor and performed well on her skills. But she wasn't enjoying it. On the outside she looked cool as a cucumber. Inside, she was in turmoil.
The instructor, realizing what was happening, called for help. Enter REBECCA THE DIVEMASTER stage left. (She might as well been a superhero with a neoprene cape and black-skirted mask because she ended up changing Anna's life.)
Rebecca befriended her in the way that only divemasters can. She helped Anna practice her skills until she had not only mastered them, she was sick of them. What Anna found amazing is that the extra practice with Rebecca made her so comfortable, the anxiety was nonexistent.
Then, Rebecca started helping Anna fine-tune things. Working with the instructor, Rebecca helped Anna trim her weights, get into a better set of fins and generally made sure that Anna was comfortable when the instructor wasn't working directly with her.
When Anna started her dive experience, she almost didn't finish. But, after earning her PADI Open Water Diver certification, she signed up for the PADI Advanced Open Water Diver course that same day.
It's easy to see the effect that this dive leader had on Anna when she says, "The reason I kept diving is because of Rebecca." True dive leaders have an effect on people's lives. Anna had a lot to overcome and was struggling. Her instructor identified the issue and used Rebecca to help. But, it was that personal connection that made the difference.
So how has this changed Anna's life? She took the PADI Advanced Open Water Diver course and built her confidence. No longer afraid of the water, she looked at how much she had progressed as a diver and, no surprise, started noticing the divers around her.
She wanted to go on to the PADI Rescue Diver course, but was a bit hesitant because it looked difficult. Rebecca, seeing Anna's natural inclination to help people fighting with her newfound confidence in the water, encouraged her. She broke the course down and told her what to expect. Then, she just told the truth – that she'd be great at it.
And she was. Anna, because of one dive leader, had now gone from being afraid of the water to confident in the water, to being able to help others in the water. This confidence didn't just show up in the water. Anna found herself more aware of her surroundings in the rest of her life and with a certain confidence that she would be able to handle whatever came her way.
By now, you likely know the rest of the story. Anna, at this point, wanted to become her role model and there wasn't any reason that she couldn't be. During her rescue diver course, she was able to see how a divemaster in training worked and how they were able to help people. Thinking back to her own rocky start, it was only natural that Anna enrolled in the PADI Divemaster course.
As she says, "I had a hard time [learning to dive] but overcame it and I wanted to give that back. Working with new divers, I saw myself in them and knew how to alleviate that nervousness. Because I had experienced it, I could see the subtle signs of discomfort and knew I could help."
Now, Anna is a PADI Divemaster, influencing countless numbers of people and helping them get the most out of their diving. But, for Anna, it's not just about the diving, it's about the confidence that she developed both in and out of the water along with the fulfillment she gets out of helping new divers. Anna can trace this all back to one person.
Thinking back about how much of an effect Rebecca had on her life, Anna says, "I almost wanted to be her – that knowledge and skill and being such a confident person makes it about 100 percent more fun."
Then she looks over with a sly grin and says, "Plus the name divemaster sounds really cool."
Hearing Anna's story really made me stop to think, and silently thank, those dive professionals that have meant a lot to me. What about you? Do you have a story about a dive professional who changed your life or want to become the dive professional that changes the lives of others? Share your story in the comments below or get started with PADI Divemaster Online today.
---
Can't get enough of the Guru? Read past installments here: