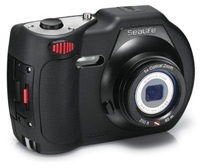 The 'Diving Is… Video Contest is live!
The 'Diving Is…' video competition is open until the 28th March and thanks to our good friends at SeaLife the video with the most votes will win an amazing SeaLife DC1400 underwater camera valued at US$529!
Diving is… adventure! Diving is… life changing! What does diving mean to you?
PADI is gathering short videos from divers around the world. You could be featured in the next PADI video! Simply upload a short diving video (less than 2 minutes) and share what diving means to you.
Submit a video, vote on your favorite video and send to your it to all friends!