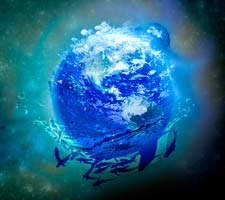 Earth Day is bogus. But, before you fire up the keyboard to draft a strongly worded response, I don't mean the day itself. 22 April is just fine for Earth Day. I'm talking about the name. What do you think of when you hear the word Earth? Maybe it's just me, but I think of dirt. And, for a planet that's nearly 70% water, that's a pretty strange association. It should be called Oceanius. Or Aquasphere. Or Water. Or, well, something that doesn't mean land.
Regardless of what you call Earth Day, however, it's a great chance to do something cool underwater. So, keeping my journalistic integrity and a long-standing tradition of lazily making top five lists so I can go diving instead of writing all day, here's the Guru's Top Five Ways to Help the Water World for Earth Day:
5. See the World. OK, this might be a bit esoteric, but seeing different parts of the world gives you a new perspective and can change the way you view the world. Not everyone lives in the same conditions or values the same things that you do. How can you expect to make a difference if you don't understand why people make the choices they do? Getting out to see the world is the best way to experience the diversity on this planet. Hey, if you want to go diving while you're out there…all the better.
4. Watch What You Eat. Although it's always a good idea to incorporate a healthy diet with some moderate exercise (as always, please see your physician before undergoing any exercise regime), I'm not talking about counting calories or kilojoules or whatever you call food energy in your area. I'm talking about establishing a sustainable seafood diet. Certain types of seafood are threatened and you can do your part by avoiding them. What can you eat? Pick up a sustainable seafood guide to help guide your choices.
3. Beach and Underwater Cleanups. Back in the old days, everyone would get together on a single day during the year and walk the beach, picking up rubbish along the way. Project AWARE took this one step further by coordinating underwater cleanups and then yet again extended the concept with Dive Against Debris. This is ongoing debris cleanups and data collection to try and get to the root of the problem. What better time to get involved with an existing campaign or to start your own than Earth Day?
2. Improve Your Diving. Take a PADI Underwater Naturalist, Peak Performance Buoyancy or AWARE – Coral Reef Conservation Specialty course. In these courses, you'll learn to fine tune your buoyancy while increasing your awareness about your local environment and the coral reefs so vital to our marine environment.
1. Shout for Sharks. With the Project AWARE Big Shark Shout Out 2012, you can shout for sharks this Earth Day. Sign the petition, organize additional signatures or enter the I Heart Sharks photo contest. A joint effort between the PADI organization and Project AWARE, the I Heart Sharks photo contest at the PADI Facebook page challenges you to get your best shark shot. Snap the best shot and you might find yourself with airfare to drop in on Australia's Great Barrier Reef (yes, restrictions apply, see the contest rules for details). The contest runs from 9-30 April so don't dally.
These are just some of the ways you can celebrate Earth Day and I know many of you are far more creative. How are you celebrating our ocean planet this Earth Day? Tell me in the comments below. In the meantime, head over to the Project AWARE Action Zone to see what's going on or visit the PADI Facebook page and take your best shot for sharks.
---
Can't get enough of the Guru? Read past installments here: