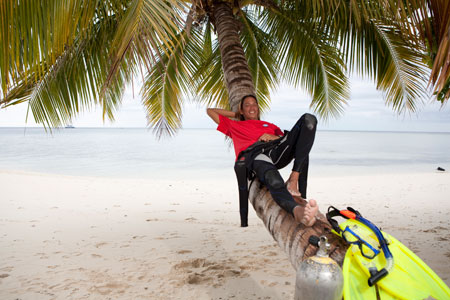 For Gurus (and probably most divers), diving is all about dreaming. While you might see the local diving scene when you close your eyes at night – and don't get me wrong, the Guru cut his little diver teeth on local diving – you'd be in the minority if you didn't see exotic dive scenes when you set your mind adrift.
Yes, not everyone can travel and not everyone can travel all of the time. But, dreaming about diving and scheming how to get to that exotic place helps fuel the fire between underwater sessions. So not everyone can travel. But everyone can dream.
So, whether you live vicariously through the pages of your favorite dive magazine, online source or other just having a good chat with your dive buddies, here is some fodder for your dive dreams – the Guru's Dive Destination Bucket List (in no particular order, of course):
10. Tanzania – so who wouldn't want to dive in a place called Zanzibar? It just sounds cool. But even more importantly, this East African nation combines epic undersea adventure with topside wildlife encounters worthy of a Hemmingway novel.
9. Maldives – This island nation in the Indian Ocean is comprised of 26 atolls stolen directly from divers' dreams. Crystal clear, warm water, vibrant reefs and abundant fish life – along with the occasional whale shark – all make the Maldives more than your average tropical retreat. It's just 2.4 metres/8.0 feet above sea level and pretty far from everything else. So much serenity.
8. Red Sea – Exotically distant to some and just a jaunt away for others, divers heading to the Red Sea are in for a treat – especially if they explore from a live-aboard. Think reef fish swarming in the thousands. And, of course, where little things attract the big things so pay attention and you might see the biggest fish of them all – a whale shark. Oh, and if you're heading on your dive adventure from Egypt, there are these pyramid-things topside too, so don't forget to add a couple of days to the itinerary.
7. Sipadan and Mabul, Malaysia – Located in the Celebes Sea off of Sabah, these two small islands boast some of the best diving on offer. Off of the 16-hectare/40-acre Sipadan, you'll find a plethora of fish and coral before dropping off the edge of a 600-metre/2000-foot wall (disclaimer: that's well below the limit of recreational scuba diving just in case you were curious). Mabul, just a short boat ride from Sipadan, is 20 hectares/50 acres of island surrounded by world-renowned muck diving. Take your time and your patience will be rewarded with cuttlefish, octopus, gobies, nudibranchs and much, much more.
6. Raja Ampat, Indonesia – A place in the middle of the Coral Triangle – the epicenter of marine biodiversity – Raja Ampat (meaning Four Kings) is among the undisputed royalty of diving. We're talking upwards of 1400 fish species and 600 coral species good. With all that coral, you'd expect there to be some current so you'll want to have a few logbook entries before you venture to this remarkable part of the world.
5. Papua New Guinea – You might think the Guru a loner (it takes a lot of self reflection to achieve Guru status!), but a dive destination with 16,000 kilometres/10,000 miles of coastline and 52,000 square kilometres/20,000 square miles of reef systems in the Coral Triangle sounds like paradise. Toss in fantastic macro diving, historic (and sobering) World War II relics and authentic cultural experiences topside, paradise doesn't sound like too bad of a description.
4. Galapagos Island – famous as the place where Darwin came up with his famous theories, Galapagos is truly a hotbed of life. Underwater, it's much of the same. It's temperate water with respectable currents and can be deep – so you'll want to make sure you get your Advanced Open Water Diver certification, but it's certainly worth it. My favorite? The fact that you can see penguins and marine iguanas in the same general area.
3. Palau – anyone who has ever encountered a painful jellyfish sting will relish the signature dive in Palau – which is actually a snorkel in Jellyfish Lake. It's a bazillion (that's a technical term) jellyfish that have evolved to – for the most part – lose their stinging cells. But that's not all – Oh yeah – and there is drift diving, reef hook diving and lots of pelagic action. Sound cool? Sounds cool to me too.
2. Cocos Island, Costa Rica – Nearly 500 kilometers/300 miles west of Costa Rica in live-aboard dive boat country, is the World Heritage Site Cocos Island National Park. The island's rugged 24 square kilometres/9 square miles are obviously beautiful, but it's underwater where this remote destination shines. Think deep water, rocky pinnacles and big pelagics – including the Guru's favorite, schooling hammerhead sharks. Taking up to 36 hours, the open ocean crossing can be an adventure in itself but gives you more than enough time to start salivating.
1. Antarctica – Yes, it's cold and might not be everyone's cup of tea. But, if you've ever wanted a logbook entry virtually guaranteed to stop the conversation at the dive shop, this is it. Just think how you can trump every boast contest by responding to any dive conversation with, "Yeah, I noticed that when I was diving in Antarctica last year." Think Penguins, seals, sharks and visibility so good you have to measure it in triple digits. Yes, metric triple digits. Well, at least that's how good it is when I dream of diving there.
Remember, diving is all about dreaming and, although local diving is great and certainly makes up the vast majority of my logbook entries, these bucket list destinations are the images that frequently fuel those dreams. What's on your bucket list? Tell me in the comments below. And, if you want to get started ticking items off your list, don't wait – contact your local PADI Dive Center or Resort to get started.
---
Can't get enough of the Guru? Read past installments here: