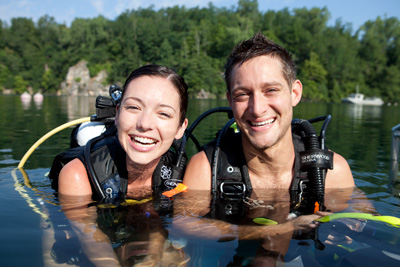 The guru recently received a letter from a self proclaimed "brown water diver". Needless to say, the Guru's interest was piqued and not just in the gutter humor sort of way. With a little bit of trepidation I started into the email and was relieved to read how the diver was only referring to his time logging dives in lakes, borrow pits, quarries and rivers rather than time spent in exotic locations.
Now, Brown Water Diver (referred to as BWD hereafter) has a point. Time is a precious commodity these days and life is often demanding so diving once a year while on holiday isn't really a possibility for everyone. The Guru can empathize. As a new diver, the Guru didn't have the resources to dive anywhere but local. Consequently, it was this local diving that fueled the imagination and made the foundation for a lifelong addiction to the sport.
So, with a tip of the hat to BWD, here are the Guru's five reasons for loving local diving:
Limited Resources? No Problem! You don't have to go exotic to get wet. Just about everyone has some dive resource close by. That definition will, of course, vary by what you consider close and if it takes you more than an hour to get to a market for your groceries, this probably doesn't apply. But, if you don't have the cash or inclination to go big, go local.
Limited Time? No Problem! If you need a nudge to get back in the water, consider enhancing your skills with some continuing education. With PADI eLearning, you can complete your knowledge development requirements online and, depending on the course and the recommendations of your PADI Dive Center or Resort, simply meet up to get in the water on the weekend.
The Guru is Inherently Lazy. Although the local lake was a bit of a drive, when the beach conditions were prohibitive or we needed a particular freshwater or altitude location, we headed for the hills. But, the best part about this was the fact that it was fresh water, which meant I didn't have to scrub my gear (yes, I did give it a quick rinse from habit). Now, if you're one of those divers choosing not to take a bathroom break before diving, well, you still need to wash your gear. Thoroughly.
Warm Water Holiday Diver? There's no need for that. With everything that the local area has, don't you owe it to yourself to either see what it has to offer or get back and see how your perspective has changed since your last dive there? And, if you don't think you have time to dive due to "work", as the Australians say, chuck a sickie and get wet. Just don't tell your employer that I suggested you take a sick day to go diving. I'll deny it.
Exploring the local watering hole. I mean diving, not your local equivalent of Cheers. Although, at the local site, chances are that you'll get to a point where everyone knows your name. Explore, get wet, meet and make new friends. Sounds like a win to me.
You never know…It might seem strange to have six items on a top five list (thankfully, mathematics isn't a required course for Guru-hood), but you never know what you might stumble on. It might even be something worthy of a television crime procedural drama… you might find a stolen car. (just don't try to raise it without proper training!)
BWD has gotten me thinking – it has been a while since I've visited those dive sites where I cut my teeth. It might just be time to get in touch with the crew and see how things have changed.
Are you already doing your share of local diving? Tell me where you're diving and why you love it in the comments below. If you want to explore what's in your backyard, one of the best ways to get involved is to check and see what your local PADI Dive Center or Resort has on offer.
---
Can't get enough of the Guru? Read past installments here: