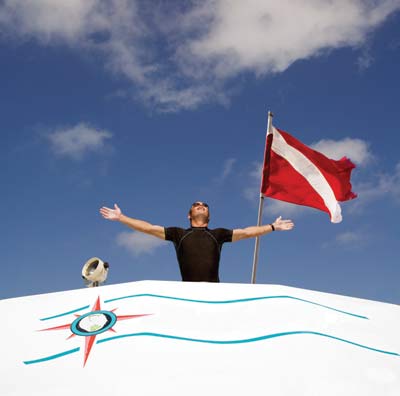 It's time to celebrate the seasons…no, the Guru isn't reading the calendar wrong – I'm not talking about the traditional winter holiday season. The Guru is talking about whatever season it is you're in. For those of us in the Northern hemisphere, summer just started and that means it's prime time for the long days of the dive season. But if you're in the south and just faced the start of winter, that doesn't mean you don't have something special to take advantage of – wherever you are in the calendar, just celebrate the scuba season you're in. So, with no further ado, here's the Guru's guide to celebrating the seasons:
Winter – This Guru happens to be a warm weather fan, but that doesn't mean there isn't anything to do – and to celebrate – when it comes to diving. If you're in an area where winter means truly inclement weather (read: ice), you have a tremendous opportunity that simply isn't an option at those warm water destinations – ice diving. Yes, you do need experience – it's not for novices and you will need to be at least a PADI Advanced Open Water Diver and probably complete a PADI Dry Suit Diver course. But, what an experience. And, if this really, really doesn't appeal to you even though you live in an ice-bound area – hit the road, Jack. Check out PADI Travel Network – the dive travel specialists have a lot of trips on offer – one of which is sure to fit the bill.
Autumn – Is this shoulder season really something to celebrate? Only yes. In many parts of the world, it's one of the best times of the year. The summer crowds have dwindled but the water is still warm and in many places offers some of the best visibility. The local dive crew that the Guru cut his teeth with nearly went dormant in the summer because everyone was waiting for autumn, when visibility would nearly double. But, if you'd rather get a head start on your winter, it's also a great time to start Enriched Air Diver Online (along with just about any other PADI eLearning® program) or start up a PADI Dry Suit Diver Specialty course.
Summer – This is the classic dive season. When the Guru dreams of summer, it's warm, clear water and blue, sunny skies. Think of your favorite stereotypical tropical dive advertisement and that's what is in my head. Regardless of whether this ideal place actually exists, summer is a great time to get into the water and get your diving on. Boat trips, travel, local diving – you name it – summer seems to have it all. Check with your PADI Dive Center or Resort – no doubt they can find you something to do.
Spring – What do you think of when you think of spring? Thanks to Mrs. Guru, the Guru thinks of spring cleaning. But more than likely what you – and most of the rest of the world — think of is the world starting to come alive as it emerges from winter. When it comes to diving, lakes are starting to turn over and those that spent the winter out of the water are getting ready to dive again and making plans to get wet. If this describes you, how can you prepare? Try a PADI Scuba Review (or Scuba Tune-Up Online) to clear out the cobwebs and take your gear into your local PADI Dive Center or Resort for service so you can make sure everything is running smoothly. While you're there, it's also a good idea to see what they have planned and get into the water with them once you're ready to go.
How are you planning to celebrate the season you're in? Tell me in the comments below. If you want some help with your scuba season planning, head to your local PADI Dive Center or Resort and see what they have on offer.
---
Can't get enough of the Guru? Read past installments here: