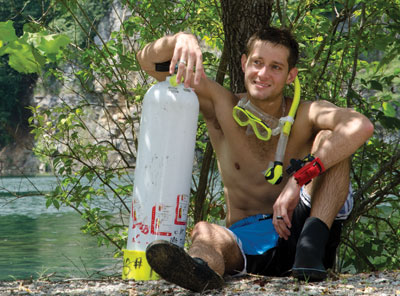 The crusty, old Guru is back for more. That's right…back in my day it was MUCH better. None of this new-fangled tek-know-lo-gee to help us with our ocean debris problems! We just swam through the trash and just tried to find fish that hadn't choked on the plastic. And we LIKED it.
Hey!
Hey!
Yeah, you! Get off my lawn!
What? Sorry, where was I? Oh yeah, marine debris. Did you know an estimated six million tons of marine debris enters the ocean each year? That's every single one of the estimated seven billion people on the planet putting 0.75 kilograms/1.7 pounds into the ocean every single year. That doesn't sound so bad when you put it that way right? Maybe not until you consider that it is EVERYONE – even those people in the world who have never SEEN an ocean, let alone had the chance to throw something in it.
This debris sits there silently and kills wildlife, destroys habitats and threatens our health and economy. But, things have changed. Quite a bit. It was just 20 years ago that Project AWARE came into existence. Early environmental efforts largely centered on an organization trying to get people to do things. And, back then, it was worse. It was, in part, due to those early efforts that the ocean isn't worse off today.
But what's special about today's world is, undoubtedly, technology. We have the technology, the means, the desire and the will to make today's world even better.
Project AWARE has grown and flourished with the times and transformed itself into an organization that enables people – a community of divers and water enthusiasts – to take real and tangible action for our marine environment. The change from the old September Cleanup Day into the year-round Dive Against Debris survey is a good example. It truly is cleanup on steroids. Whereas cleanup day used to be a single day in September, now it's year-round. People are diving and helping  the environment all the time – and this is leading to long term data collection. This might sound boring but it's the most important step to actually getting to the source of the problem rather than treating a symptom.
Project AWARE is leveraging technology to save the ocean. I know, I know, it sounds a bit much, but take a look at the whole Debris Month of Action.  It's all online and leverages the social networking fad…er, I mean trend, to increase participation and involvement. Here's how you can fight the good fight during the Debris Month of Action:
Join the online Project AWARE My Ocean community so you can create your marine debris action or event. You can host a Dive Against Debris survey, marine debris presentation or just about anything else that helps fight trash in the ocean. What's really cool is that your event will be featured on the Project AWARE Action Zone Map.
Download the Stop the Ocean's Silent Killer sign. Grab some trash, write the weight on the sign and then take a snap with the sign and your crew. Then, get social and maybe even some bragging rights by posting it to the Project AWARE Facebook page, posting it to My Ocean, tweeting it to #DebrisMonthofAction @projectaware or uploading it to the Project AWARE Flickr pool.
Submit your Dive Against Debris survey data. Really, none of this tech is worth a fig if you don't do anything with it. Submitting your survey data online helps Project AWARE battle trash and get to the source of the debris problem.
You don't want to turn into a crusty Guru, do you? Don't take the chance, take advantage of the new fangled inventions and tools from Project AWARE to help out our marine environment. And, in the meantime, check into your local PADI Dive Center or Resort and see what they are doing for the Debris Month of Action.
---
Can't get enough of the Guru? Read past installments here: