The Guru tries not to get in the habit of quoting hits from Three Dog Night but one truly is the loneliest number (although, to be fair, Australian legend John Farnham also covered the song, but I don't know if that makes referencing Three Dog Night any more acceptable).
Regardless, the Guru has a fair bit of one-ness experience. For a long time, the Guru was but a lonely diver with nobody to dive with. It's tough when you live and breathe water but don't have anyone to share it with. It's doubly tough when it comes to diving because it wouldn't be very Guru-like to dive without a buddy.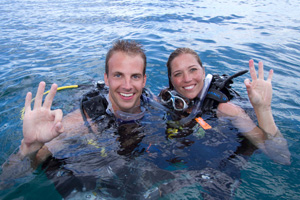 Enter PADI Diving Society and ScubaEarth™. It sort of reminds the Guru of online dating. You peruse online, take your pick and then meet everyone in real life. Well, it's sort of like online dating, but without the extensive number of awkward first dates. Not that there's anything wrong with that. I mean online dating is a good thing. Do you have any idea how hard it is for the Guru to meet someone? Seriously. Sitting on a lush tropical island contemplating the wonders of the underwater world all the time? Doesn't leave much time for meeting someone. Err. Sorry. Got a bit off track there. Back to diving.
The Guru has extolled the virtues of PADI Diving Society before – but let me go down that path again. For the solo Guru looking for dive buddies, PADI Diving Society events are the perfect way to meet people without all the discomfort. Looking to go somewhere cool? How does Roatan in the Honduran Bay Islands sound? Looking to meet new people, all of who share your passion for the underwater world? Total Submersion is the place for me. I mean, you. It's a ready-made way to increase your dive buddy contact list.
But, even if you don't want to go on an event, PADI Diving Society has active chapters at PADI Dive Centers and Resorts. Why not check your local PADI dive shop to see what they have going on?
ScubaEarth might be new, but for the Guru-ish one is the loneliest number crowd, it's magic. And, it's available for exploration right now. The site helps you connect with other PADI Divers, PADI Professionals and PADI Dive Centers and Resorts around the world.
Want to meet other divers? Sign up for your ScubaEarth account and start by affiliating with your local PADI Dive Center or Resort – probably the same one that you're attending PADI Diving Society events with (hint, hint).
Then, search for your existing buddies using the search function and when you find someone you know (or, just like some versions of online dating, someone you don't know), click on the Add Buddy button. Voila. You're connected and, depending on the settings, you can see where they dive and check out their photos
Now that you have some buddies, you'll probably want to find some cool places to go. Check out the Featured Destinations and click on the map. The world is your oyster. Want to find out more about exotic diving in Papua New Guinea? Click on the map and you'll get an overview of the destination, find out about the iconic marine life that defines the area and assemble your bucket list of top dives.
Imagine this – you head on a PADI Diving Society adventure to meet some new buddies in an outlandishly fun setting. You head over to ScubaEarth, add them as buddies and soon enough you're spending enough time on the site sharing photos, exchanging videos and planning dream dive trips that Mrs. Guru threatens to cancel your internet connection. Not that I have any personal experience with anything like that.
With the combination of PADI Diving Society and ScubaEarth, you might actually end up with too many buddies and have to strand yourself on a lush tropical island contemplating the wonders of the underwater world all the time. I can think of worse things. And, if you have any friends or family that you'd like to turn into dive buddies (so you can bring them on a PADI Diving Society adventure) or connect with them on ScubaEarth (though you don't have to be a diver to join), now's the time to do it. Check out the PADI Dive & Win contest. All you have to do is share how much you love diving to receive a free PADI hat and have a chance to win other great prizes.
So, don't be afraid of online dating…I mean online dive buddy finding. Nobody wants to be alone and by contacting your local PADI Dive Center, visiting padidivingsociety.com or heading to ScubaEarth or even referring a friend to diving, you'll find your new best buddies in no time.
---
Can't get enough of the Guru? Read past installments here: