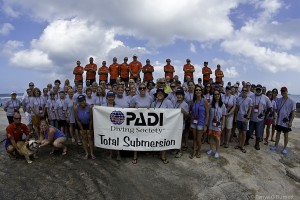 Here are five very good reasons why you should attend PADI Diving Society's Total Submersion (Total Sub) event 1-8 June, 2013 in Grand Cayman:
To be a part of the industry's longest running, fastest selling dive event. This year, Total Sub is heading back to PADI Five Star IDC Resort Sunset House in Grand Cayman for a weeklong dive adventure. It's something that you don't want to miss as everyone will be talking about it! Read about last year's Total Sub event.
Unlimited shore diving. Whether you're a novice diver or advanced, there's one thing that you have in common – you can't get enough of diving! At Total Sub, there are four days of two-tank boat dives in the morning. Then the afternoon is yours to lounge by the pool, visit the local sites or dive! That's right, the ocean is open all afternoon and through the early evening for those that want to get a night dive in. Just grab a tank and a dive buddy and you can make one of the easiest shore dives of the Island. Have you heard of the infamous Mermaid in Cayman? We'll its right off the shore of Sunset House.

You'll have a chance to dive the ex-USS Kittiwake, a 251-foot long, 5-deck, decommissioned US Navy Submarine Rescue Ship. Check out the video and read all about the history of the ship. Afterwards, you'll definitely want to check out this wreck in person!
You'll want to attend for all of the shenanigans. From crazy games that involve a fin, a bucket and bottle caps, to decorating the mermaid,  playing childhood games like musical chairs, water fights, inflatable turtles taking over the pool and so much more. You have to experience this stuff to believe it.
As much as I'd like to say it's because it's one of my favorite events. Here's a few reasons why last year's Total Subers loved it!
"We knew that we would have a great time because it's a PADI Diving Society event. Society events are always a hit because everyone is playing like kids and laughing at each other. In no time we have to say good bye to our old friends and new friends until the next PADI event." Sabrina Lo, Vancouver, B.C., Canada – 3rd Total Sub (8th Society event!)
 "I love the dynamic spirit and the awesome group of divers who attend Total Sub." Lisa Cassel Patrick, Waterford, Connecticut, USA – 2nd Total Sub
"Aside from the great diving and the stingrays, I would have to say the trip to Rum Point. The food was great and the silly games were a lot of fun! It's been many years since I have played musical chairs!" Denise Bonnell, Tolono, Illinois, USA – 1st Total Sub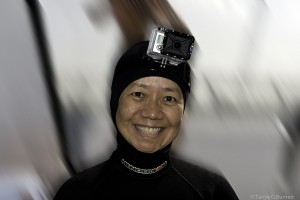 For more details, visit padi.com/totalsub.
To reserve your space today contact your local PADI Dive Center or Resort. Or for more information, contact PADI Travel Network at 800 736 7021 (US and Canada) or +1 407 937 0754 or ptn1@padi.com. But don't wait too long!
Images by Tanya G. Burnett