Manta rays are incredible creatures and any diver who has been lucky enough to dive alongside one of these beautiful creatures will be able to tell you how truly amazing they are. Unfortunately, mantas are at risk of extinction and PADI is proud to support Project AWARE and divers in their conversation efforts to protect mantas.
Your support has already helped Project AWARE and their conservation partners succeed in safeguarding the globally threatened giant manta ray and its key habitats under the Convention on Migratory Species of Wild Animals (CMS).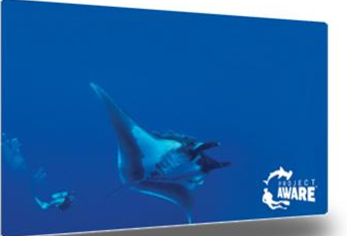 This March, Project AWARE will continue its critical work to protect Mantas and Sharks under CITES, the world's largest, most effective wildlife conservation agreement. The Project AWARE version of your PADI certification card shows your experience as a PADI Diver and your support for ocean protection.
When you complete a PADI course in 2013 you can choose the Project AWARE limited edition manta ray card and make a donation to help protect manta rays.
Alternatively, visit your local PADI Dive Shop or purchase one online if you wish to replace your PADI certification card.