"Too many of us are not living our dreams because we are living our fears." – Les Brown
Yes – the Guruette is introducing herself by quoting a motivational speaker. It may be cheesy – but it's oh so true. And, although I'm grateful to the Dive Guru for leaving out some of the little details about our first date – I mean dive – in my introduction, I feel like I should clear up a few things.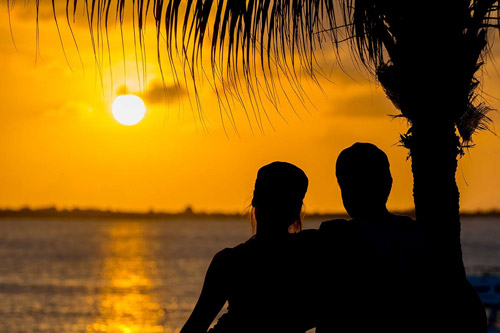 It all started on an overcast day in October. While enjoying a bottle of wine, my girlfriends and I were giggling over online dating profiles and wondering why my Mr. Right hadn't simply appeared in my living room – yet. Now, I'm not the most adventurous type, but I do love the ocean. Swimming in it, however, is an entirely different issue. I've seen Jaws and all those Hollywood flicks. Becoming a fishy little snack is just not in the cards for me.
One of my girlfriends (who happened to be the adventurous type) was a diver and had, way back when, convinced me to go through the PADI Open Water Diver course. The course itself was wonderful and our instructor was great – but we completed our open water dives in a lake – no sharks there (yay!). I was less enthusiastic about any sort of diving that involved the ocean. Lucky for me, that same adventurous girlfriend was with me on that overcast day in October enjoying a few laughs (many at my expense) and quickly weeding out potential Mr. Rights based on whether or not they listed diving as an interest in their online profiles.
Somewhere along the way we lost track of online dating, and we ended up on my friend's ScubaEarth™ account – then we created a ScubaEarth account for me. My friends, who had not completely given up on finding me a date, posted the following as the description of me in my profile:
Adventurous, fun loving and always looking to meet new dive buddies. Slightly scared of sharks, but seriously interested in getting in as many dives as I can manage. Ask me to go diving, and I'll never turn you down.
Then – they sent buddy requests to all the eligible male divers on ScubaEarth. Yes. You read that correctly – all. My friends had played up my eagerness to go diving and seriously downplayed my fear sharks – but I figured no one would read my profile anyway – right? Wrong.
Before I knew it I was messaging with tons of excited scuba divers, and it happened – the Guru asked me to meet him for a dive. We had exchanged a few messages at that point, and I really wanted to meet him – but my fear of the ocean remained. I showed up completely terrified of being eaten before the day's end, but I tried to play it cool.
Yeah – I wasn't fooling anyone. The Guru, being a guru and all, picked up on my trepidation immediately. I thought I had completely blown it. I was standing on the beach with Mr. Guru who not only loved diving but thought that I loved it too – and here I was too scared to get in the ocean. My stress got the better of me, and I sheepishly explained to him that I had an overwhelming fear of sharks. I braced myself for an angry or at least antagonizing response – but instead he smiled at me and sat down in the sand to have a serious discussion about the misunderstood creatures.
I recounted numerous scenes from movies and TV that reinforced my fears. He supportively explained that he had been completely petrified by the movie Jaws too – but all that was before he learned what truly amazing creatures they are. He went on and on (and on – seriously, probably a bit too long) about all the sharks he loves, their behaviors, their physical characteristics, his admiration for them, misconceptions and how they are in dire need of protection.
I wasn't entirely convinced, but he jokingly stated that he'd happily throw himself in front of the bite if all my fears turned out to be reality. Talking with him made me feel so much more comfortable, and I decided to try a dive. We geared up and faced my fears. As it turned out the Guru was right, it's a rare privilege to dive with a shark. We didn't see a single one.
But, going on that dive changed my life. The myriad of colors and critters that exists beneath the surface made me forget about my fear. I felt like I was gliding through an alternate reality. The weightless sensation – the variety of marine life – the complete natural beauty. It took my breath away, and I couldn't believe it had taken me so long to do this. As silly as it sounds, it wasn't just the beauty of the underwater world or the dive itself that made me feel so free. It was also letting go of a long held fear.
Now, as a guruette – or perhaps a guruette-in-training, the Guru and I actually search out opportunities to spot a shark on a dive. We get to travel the world, meet new and interesting people and explore the sights both above and below the surface. Making that first ocean dive changed my life forever, and I know that I will always be a diver.
If you want to see more stories like mine or share your story of overcoming your personal obstacle to diving, go to the Ask Any Diver page at padi.com. You can upload your story and help a future buddy get into diving. In the meantime, don't forget that the friendly staff at your local PADI Dive Center or Resort can answer your questions.
---
Can't get enough of the Guru (or guruette)? Read past installments here: