Dreaming of an island getaway? Check out these six must-visit dive destinations across Asia.
From Phi Phi Islands in Thailand to JeJu Island in South Korea, these destinations offer the chance to escape to another world. Each destination offers unique diving experiences as well as the chance to really unwind!
Tioman Island, Malaysia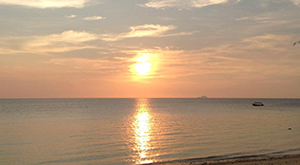 Tioman has been long considered one of the world's most idyllic, picturesque islands. It comes as no surprise that the beauty extends below the surface, where extensive coral reefs teem with life, including soft corals, napoleon wrasses, profuse tropical fish and the occasional manta ray. Watching the sunset after a dive on Tioman is an unforgettable experience.
More information on Tioman Island & Malaysia.
Find a PADI Dive Shop in Tioman Island, Malaysia.
Gili Islands, Indonesia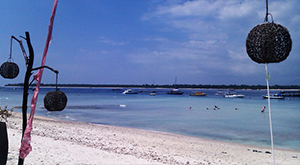 Located close to Tanjung are the beautiful islands of Gili Trawangan, Gili Meno and Gili Air. Gili Trawangan is one of Indonesia's most popular places – along with Bali – to dive. The Gili Islands reputation for amazing marine life including turtles, cuttlefish, octopus and scorpion fish, make it a top diving destination. With three islands to discover, the Gili Islands are a piece of paradise waiting to be explored!
More information on the Gili Islands & Indonesia.
Find a PADI Dive Shop in Gili Island, Indonesia.
Boracay, Philippines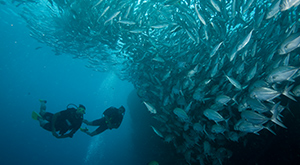 With over 4 kilometres/2.5 miles of white sand beaches and bright blue waters, Borcay Island has some of the finest beaches in the world. Borcay is ideal for novice divers as the water is generally calm and offers easy access to dive sites. Experienced divers will also be spoilt for choice and Yapak is favorite site of many. You also have the chance to witness schools of tuna, manta rays, eagle rays and white tip sharks.
The Philippines government has announced that Boracay will close to tourists from 26 April 2018 for up to six months to allow for environmental rehabilitation. Check your local travel advisory board or department for travel advice and updates.
More information on Boracay & Philippines.
Find a PADI Dive Shop in Boracay, Philippines.

Phi Phi Islands, Thailand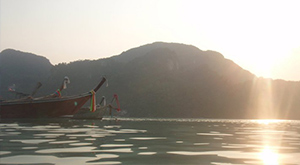 Phi Phi is not only breathtaking above the water, the dive sites here crawl with marine life including sea turtles and rays. Piles of fish, moray eels, leopard sharks, soft corals and giant clams, deep drops, caverns and tunnels, pinnacles and extensive fringing reefs remind you that the underwater world is incredible and Phi Phi is a must-visit location. Thailand is amazing, and Phi Phi adds to this reputation.
More information on Phi Phi Islands & Thailand.
Find a PADI Dive Shop in Phi Phi Islands, Thailand.
Andaman and Nicobar Islands, India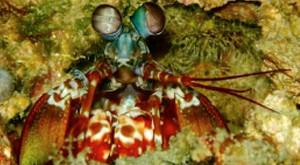 Andaman and Nicobar Islands are comprised of a large group of 500 islands in the Bay of Bengal, with the Andaman's in the north and the Nicobar's in the south, creating an abundance of amazing dive sites. The white sandy beaches and crystal blue ocean is only the start. In some of the world's most unspoilt waters, divers will be able to experience; corals, pristine reefs and an extensive array of fish life.
More information on Andaman and Nicobar Islands & India.
Find a PADI Dive Shop in Andaman and Nicobar Islands, India.
JeJu Island, South Korea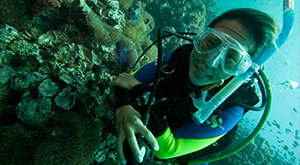 Being the largest volcanic island in South Korea, Jeju Island offers a range of activities, whether it's below the water diving, or above the surface exploring the waterfalls or the multitude of beaches. The best dive spots located on Jeju Island includes; Mun Island (Mosquito Island), Little Mun Island (located off the northeast corner of Mun Island) and Sup Island (SupSun Island).
Find a PADI Dive Shop in JeJu Island, Korea.
Do you have an island dive getaway that is your favorite? Let us know below!