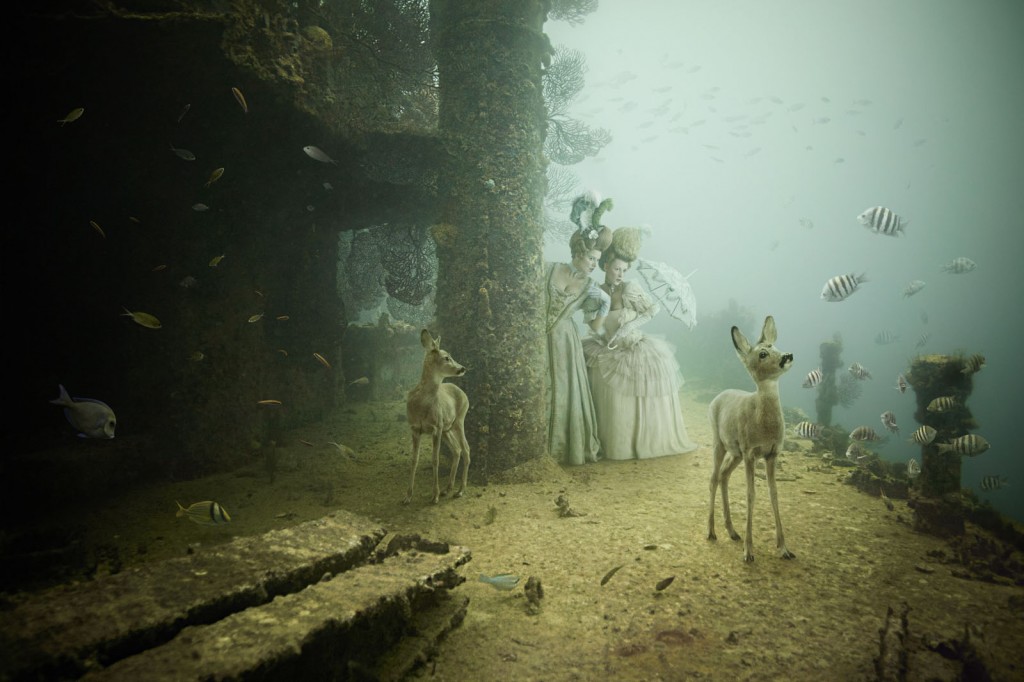 When you think of wreck diving: powdered wigs and opulent feasts may not be the first things that come to mind. But photographer and digital artist Andreas Franke blends two aspects of humanity's past in a striking and unexpected way.
The Vandenberg Project
Franke's project, The Sinking World, first debuted on The Vandenburg in the Florida Keys. The project began when Franke, a PADI Diver, saw a picture of the Vandenberg in a dive magazine. He traveled to Florida and photographed the ship, then returned to his studio in Vienna where he used the underwater images as a canvas. By superimposing topside photos (shot in a studio), Franke created dreamlike scenes that (in the end) were displayed on the wreck which inspired him.
Divers visiting the Vandenberg could swim through an underwater art gallery where each image depicted a topside scene taking place underwater – on the wreck itself. Ballerinas in a row balance their legs on the rail of the ship as though it was a barre, and boxers spar amidst a school of fish (see video below for more).
The images have since been removed from the Vandenberg (gives a new meaning to "take only pictures…") and were displayed for a short time in a gallery on land. Interestingly: the plexiglass cases which held the art, sprung a leak during their submersion. Algae and other microorganisms made their home inside,
creating a unique (and unintentional) patina
.
The Sequel: the Stavronikita Project.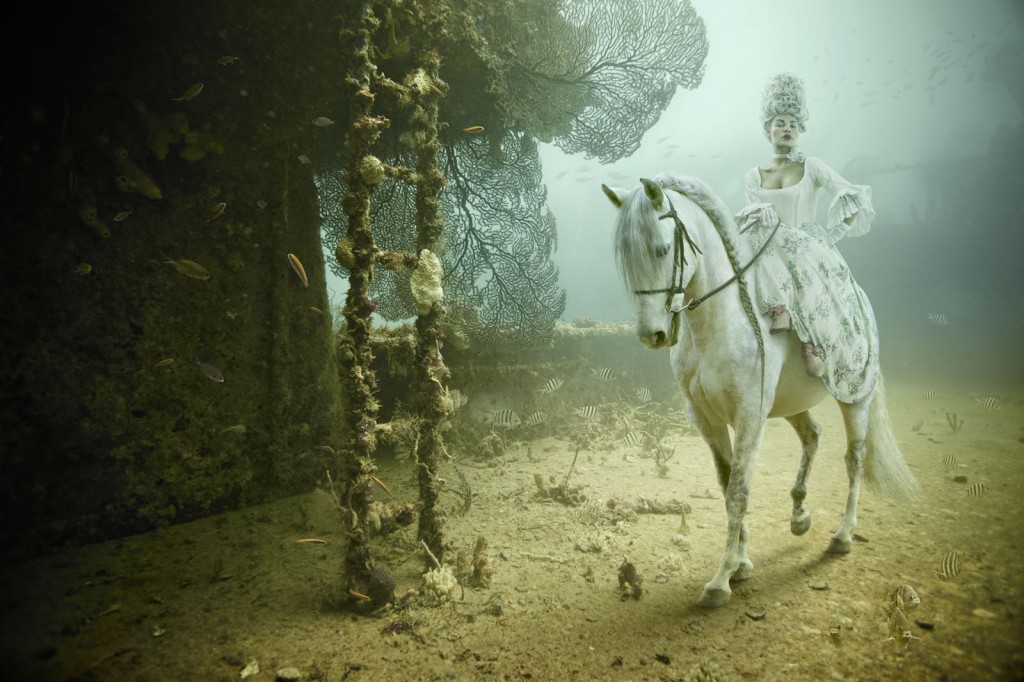 Currently on display 80 feet/ 24 meters below the waves in Barbados is The Stavronikita Project, a sequel of sorts to the Vandenberg. Each image on the Stavronikita is a scene of topside activities being carried out underwater on the wreck. This time around, the subjects are in eleborate 18th century costumes.
From now through mid-May, divers can visit the underwater gallery. Removal is scheduled for 10-13 May 2013.  Visit the official website: www.thesinkingworld.com or their Facebook Page for additional details.