As a Dive Guru-ette, at this time of year in particular, I have one thing on my mind (in addition to diving of course), and that's how to sustain the underwater world. I'd like to say that I have a more altruistic side, and I want to save the ocean for generations to come. But, the truth is I want to save it for me. I want to continue to marvel over the ocean's pristine beauty on my dives. I want to see all the little critters. I want to see bright, vibrant and healthy coral, and I want to see it forever – or at least every time I go diving.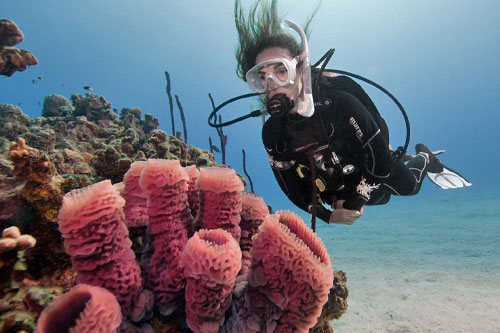 April marks my participation in Earth Day cleanups and celebrations across the globe – and it's also a reminder that I want and need to do more throughout the year to protect the world we dive in. I always have good intentions in April, and in some ways I follow through…and in some ways I don't.
Fast forward to current time. Picture a Guru-ette in training and the Dive Guru. Imagine that the Dive Guru has brought the Guru-ette with him to multiple Project AWARE Dive Against Debris events. Envision this Guru plucking countless pieces of trash from the ocean floor at these year-round data and debris collection efforts, barely able to contain his disgust and complaining about anyone who might possibly have contributed to this garbage in his beautiful ocean. Now imagine this – this same Dive Guru doesn't recycle.
You would think that a guy who rants about debris destroying the pristine underwater environment at his favorite dive sites would be completely in tune with recycling. Well, if you thought that – like I did, you'd be wrong – like I was.
It's not that the Guru is against recycling in theory – it's that back in the day when the Guru first became a guru – think way, way back (no, further, like sea turtle time scales) – no one recycled. But even now that recycling is commonplace, the Guru can't seem to remember to separate the cans from the paper, plastic and garbage. I wouldn't call it laziness – well I would, but that started a fight between Guru-ette and the Guru – it's more than that. It's about how you view your role on this watery planet, and it's about taking responsibility for everything you do – all the way down to thinking about the little things you throw away.
One thing the Guru and the Guru-ette agree on – is that trash in the ocean sucks. On one hand, a Guru-ette might be prone to consider recycling as a way she can contribute to environmental protection and, more specifically, a way she can help keep the ocean free from debris. But perhaps it's not as intuitive as that, and perhaps a Guru-ette shouldn't blame the Guru for not thinking of recycling the same way she does – at least not before she "gently" explains her point. Perhaps all of us, including the Guru-ette, need to step up for our oceans.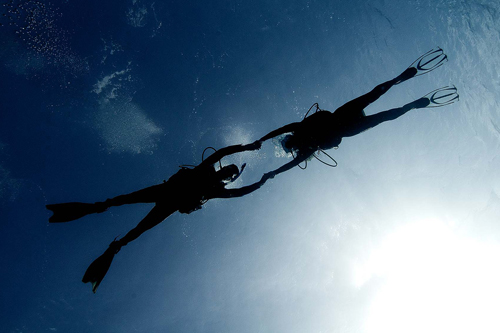 We don't always think about where our trash goes. And, even when we think about it, we usually think about landfills and the like. But, anything we throw away has the possibility, even the probability, of making it into the ocean. Recycling gives us the opportunity to keep more junk out of the water altogether. Dive Against Debris events give us a second chance to pick up anything that has made it into the water.
But, the Guru-ette can't save the planet on her own. It's time for the Guru to stand up for the ocean planet he cares about, not just once a year, or in recycling basics, but in many small changes – while on land and underwater. The Guru is smart enough to know that it's going to take actions by each of us – not just on Earth Day, not just the occasional recycling of a bottle, not just doing something for the planet when it happens to fit into his schedule – but year round. Even the Guru-ette is guilty of this to some degree. We can't just help the planet when it's convenient – we have to make it a priority or we'll lose the oceans we love.
All of us can contribute to the fight against ocean debris in our own way. If you don't recycle – try it this year – or if you do – keep doing it. Go to a local Dive Against Debris event, or organize one in your community. Check out the Project AWARE Dive Against Debris program main page for a list of events worldwide or, if you want to have a look at all the events, check out the Project AWARE Action Zone Map.
Even if you can't make it out to an event, or contribute financially, you can still contribute. Go to the Project AWARE Foundation Facebook page or Twitter page and comment on or repost something you think is interesting, cool or outrageous. Spreading the word about ocean protection is the first step to protecting it, and you're helping every time you comment and share.
---
Can't get enough of the Guru (or, better yet, the Guru-ette)? Read past installments here: