These days it seems there is a day, week or month for just about everything out there. January, for example, is Bath Safety Month. March has Employee Spirit week. You might know that the first Wednesday in October is Balloons Around The World Day. But, with some notable exceptions, there hasn't been a lot of days, weeks or months devoted to diving. So, the Guru is here to rectify the situation with this proclamation: June is now officially Global Scuba Diving Month.
(Disclaimer: Dive Guru has no legislative, judicial or executive jurisdiction to make any binding proclamations in any way – especially sweeping ones that involve the world and the term "global". The Guru in no way accepts responsibility, deserved or otherwise, and is a bit of a ninny when it comes to standing up for himself anyway. Guru fully claims, accepts and owns any fun, pleasure, enjoyment or lasting friendships coming from participation in the "month". The Guru fully denies any negative association with the "month", including but not limited to bad timing, bad luck, bad attitude, general surly disposition or the fact that you thought you were wearing a wet suit when you had your dry suit on. Yes. That is what I'm talking about.)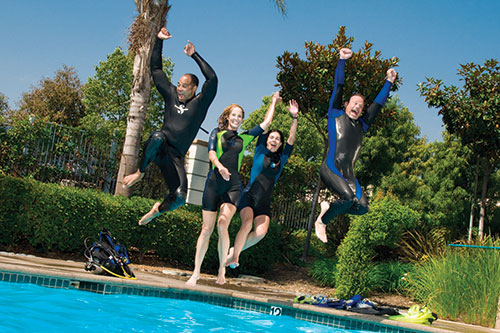 Disclaimers and stale jokes aside, the idea of a Global Scuba Diving Month is a pretty good one if I do say so myself. If you're reading this, you likely share the Guru's passion for the sport and pretty much want to head underwater at the drop of a hat or with the slightest excuse. So, why not share that excitement and use Global Scuba Diving Month as a good excuse to not only go diving yourself – as much as possible of course – but also get some nondiving friends involved by giving them a PADI eLearning® Gift Pass? After all, for many of us, diving changed our lives.
The Guru's life was certainly changed by learning to dive so I conducted an informal poll to see why or how people started diving. Many of the stories showed a distinct trend – the course and direction of their lives were altered for the better by diving. Maybe one of these connects with you or your friends. Yes, the names have been changed to protect the innocent and the Guru accepts no liability for inflating the story to make it sound better:
Honestly? I thought the instructor was cute and I wanted a date. But, as soon as I got in the water – it didn't matter. I was hooked and diving ended up as a lifelong passion. No, I never got the date. But, I found out that I didn't really care anymore as I had found something much better.
Working at a high stress corporate job was stressing me out. I needed somewhere to escape and where the pressures and demands of everyday life melted away. Fortunately, my boyfriend was an instructor and soon I found myself underwater as much as I could. How funny that I had to put myself under pressure to escape pressure!
I got to watch my father diving in the river every weekend and was envious when I saw him and his dive group coming out of the water, laughing and chatting madly about what happened. I so much wanted to go with him and, as soon as I was old enough, he taught me. Now, I find myself bumping into things any time I walk along the river – I'm too busy staring into the water looking for fish to pay attention to where I'm going!
My mother was crazy – but in a good way. She'd drag us on these crazy holidays – skydiving one time, Rajasthan folk dancing the next. You never wanted to go but always ended up enjoying it despite yourself. The one that really changed my life was when she made us take a Discover Scuba® Diving experience. I haven't been skydiving, nor have I participated in any folk dancing events, but I have continued diving – earning my certification in the process. Although I must admit that I do have some Rajasthan folk music on my laptop.
Although it's somewhat embarrassing and dates me a bit, it was my father returning from a business trip with a copy of the Hamlyn Guide to Skin and Scuba Diving for me, and the family cluttered around the television watching The Silent World of Jacques Cousteau that first got me fascinated with diving. But, it seemed out of reach and not really something that I could do. Then, a friend told me he got a wet suit for a birthday present. It was then that I realized I could be a diver myself. I haven't looked back since.
I learned at university. We didn't have much money but the school put on a program throughout the term. After we were all certified and I was done with school I scraped together every spare bit of money I had to buy my gear and headed into the local waters every chance I could get. I think it even took me some extra time to find the right employer when I came out of school – I needed one that didn't get in the way of my diving!
And, as for the Guru, who had been snorkeling for a long, long time, I just wanted to see what else was down there. The beauty of the underwater environment captivated me and fish made me laugh. Plus, my friend's girlfriend got a special deal at the local dive center. Look where that led.
So, what drove you to dive? Why did you start? How did you get involved? Share your story in the comments below or share your testimonial on the Ask Any PADI Diver page. And, if you're feeling generous, why not send a friend or family member a PADI eLearning Gift Pass – it never hurts to have a new dive buddy and you can be the catalyst that helped change their life for good.
---
Can't get enough of the Guru (or, better yet, the Guru-ette)? Read past installments here: