Thanks to everyone who participated in our Why My PADI Pro is the Best contest last month.We sincerely enjoyed reading everyone's entries and it was challenging to choose only three winners. PADI Pros around the world do an amazing job encouraging students to overcome their fears, see the underwater world through new eyes and generally make people feel amazing.
If you have a story about how scuba diving changed your life, but missed out on this contest, visit padi.com/askanydiver to submit a video testimonial. Your story could be featured in a worldwide campaign to inspire others to try scuba diving.
Ever considered becoming a PADI Pro? Read about some of the jobs available to PADI Instructors, and contact a PADI Dive Shop about how to "go pro."
Below are our the winning submissions. Each nominating diver received PADI swag and a free PADI eLearning course. Thanks again to everyone who entered.
Instructor: Amy Lesh
Nominated by: Michelle M.
Amy is the best PADI instructor because she cares and has passion. She cares about her students, divers in general, and the ocean. She is one of the most patient people I have met and will always take the time to help someone with their diving, whether she is the instructor and/or divemaster or not. She has saved at least several people and is always encouraging to people to make them feel more at ease. She took a nervous diver who could only stay down for about 20 minutes and helped guide me to a Master Diver, who can now stay down the full bottom time and is much more comfortable and confident about diving. She cares about the environment and saving the ocean and the magical creatures within. She promotes going green and organizes events to save marine life and educate people why this is important. She has given me her passion for saving our oceans and the environment. Overall Amy is the best PADI instructor because she is so passionate about diving. And she always does so with a shining smile on her face. You can't help but have a better day when diving with Amy.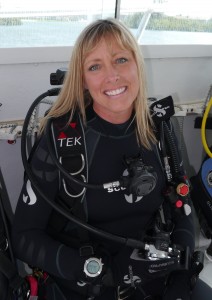 Instructor: Anna Clague
Nominated By: Laurianne E.
My amazing instructor Anna is a great mentor. Leading by example, she taught me to be a calm, confident and enthusiastic diver. She's passionate, motivating and encouraging even when her new divers end up suspended upside down in the pool. After 14 dives since my certification in November, I can't wait to do my Advanced course later this year. Anna's passion and patience is perfect for teaching new divers the underwater skills required. Wise beyond her years, I'm incredibly impressed at her ability to communicate underwater without words. Above water she was very engaging, making the start of my adventure with PADI not only interesting, but fun and enjoyable! Of course, listening at all times would have been handy, and hopefully this time I won't fall on my face in front of a crowd while getting out of the water. I forgot Anna said to watch out for the rocks!! If she can teach me to be a good diver she can teach anyone! Her love and respect for the underwater world shines through in her teaching and all my dealings with her since. I heart my PADI Pro Instructor and hope she will be my instructor again as I continue on this wonderful adventure of exploring a whole new world!

Instructor: Richard Read
Nominated By: Yichao X.
I am a university student in UK. I got know dive course from the university society. When I started the course I even could not swim. I want myself to learn how to swim by learning dive. Things were not as easy as I thought. I could hardly control the balance in the water and still feared the water. I started really to doubt if I would make it. Give the background my study was very busy and I was applying for jobs . Until two weeks before the open water dive, I still couldn't swim. Then Richard spent his own time teaching me swimming and most importantly gave me huge encouragement. Had to say he is really good at teaching . He can make you believe that you can when thing got difficult. Finally I succeeded in learning swimming in two weeks and did it in the red sea which become important achievement in my life. Not only a boost of confidence but also the know-how of overcoming fear. Sometimes I can not believe I did this. But truly I could not do that with out my instructor.