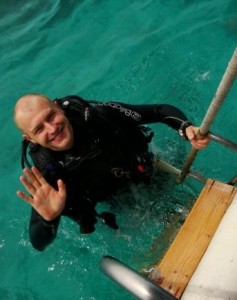 Today's blog post comes to us from guest  blogger and PADI Course Director Stefan Campo…
On Friday 15th Feb, I got an email from PADI saying that I made it onto the 2013 PADI Course Director Training Course in Kota Kinabalu, Malaysia!  But how did I get this far?
Let's start from the beginning…
In September 2005 I was traveling on the east coast of Australia and was asked to try a PADI dive course by fellow backpackers. Well, why not?! Sitting in a classroom while the sun is shining sounds fun, right?
I will never forget the feeling I had when I took my first breath from this regulator underwater. WOW! THIS IS AMAZING! THIS IS THE BEST THING I EVER DID! I want to do this for the rest of my life!
Back in Germany after a year of traveling , I couldn't think of anything other than diving. I researched PADI and dive courses online and found Blue Season Bali, a PADI Instructor Development Center in Indonesia. Three weeks later I was in a plane flying to Indonesia with a PADI Open Water Diver certification and only six (6) logged dives under my belt! Am I really going to become a dive instructor? I was so excited!
For my PADI Advanced Open Water course, the next step after Open Water, we went to Nusa Penida. It was my fourth day in Bali and guess what?  I saw my first ever Mola Mola (aka Ocean Sunfish). Bali is famous worldwide for this amazing creature! The next three days I spent learning to be a Rescue Diver and that's when things got interesting…

During the pool section of the course, students take turns being the victim and the other student the rescuer and vice versa. After a few attempts with the skill panicked diver at the surface, one of the instructors (Jon)  said he would now be a victim and I would need to be the rescuer.
Jon panicked and I started to assess the scene and follow the procedures you learn as a Rescue Diver. Jon came closer and I decided to do the underwater approach: regulator in, air out of BCD, and quickly down. But then Jon turned and I couldn't get behind to grab his tank. He attempted to push my mask off and pulled on my regulator, simulating a  panicked victim. After a second of "stop, think, breathe from the octopus…" I  was able to control him, make him float, and successfully finish the exercise.
I really learned something that day in the pool. I loved the Rescue Diver experience and it helped me in some of my teaching situations to come. There I was, a PADI Rescue Diver and about to start the next big journey – my PADI Divemaster internship!
Making the Leap from Diver to Dive Professional
During my internship at Blue Season Bali, I  learned what it really means to be a divemaster. A divemaster is not only a dive guide pointing out interesting marine life to certified divers; the overall role is to create a fun, exiting and relaxed day diving and providing quality service above and below the water.
Each day started by preparing the daily diving activity in Bali. We checked the schedule and organized the dive equipment, dive tanks, drinks, towels and everything else you would need on a day out diving.
In addition to learning the standard PADI Divemaster curriculum, I also improved on a personal level. I was 21 when I first came to Bali, and in some ways you are still really young, even though you think you're not! Also, I improved my English language skills, giving dive briefings in English and so on. Leading dive trips gave me so much more confidence and maturity I think is beneficial for everybody looking for one's place in the world.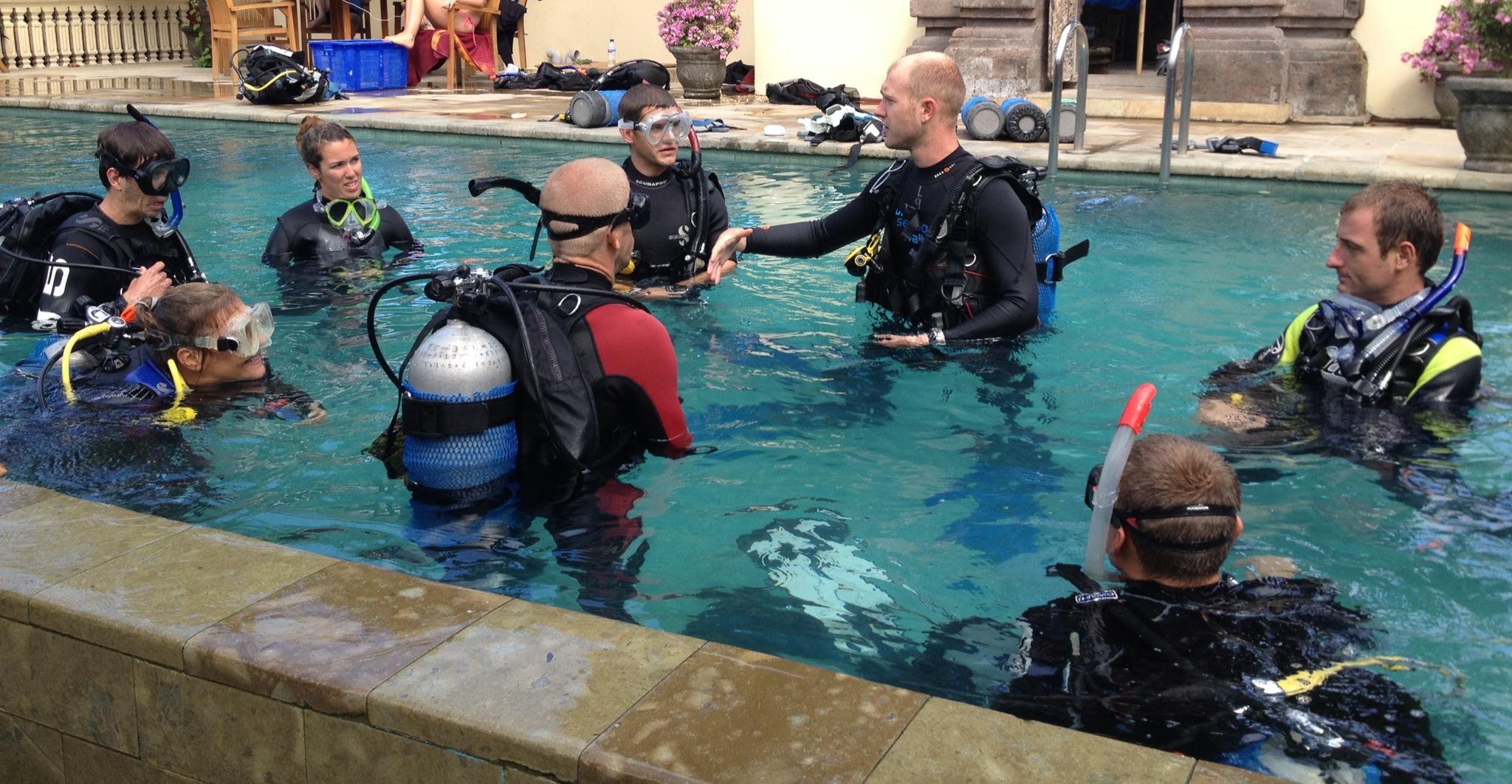 After a month of getting experience as a certified PADI Divemaster, taking guests out diving daily and assisting on dive courses, my PADI Instructor Development Course (IDC) began. I remember the first day, I was quite exited. My dream was about to come true! The three week program went quickly, and we were prepared to show our skills to the PADI Examiner at the PADI IE (Instructor Exam).  I was nervous before every session, but I also remembered my training what can I say, I made it, I WAS A PADI INSTRUCTOR!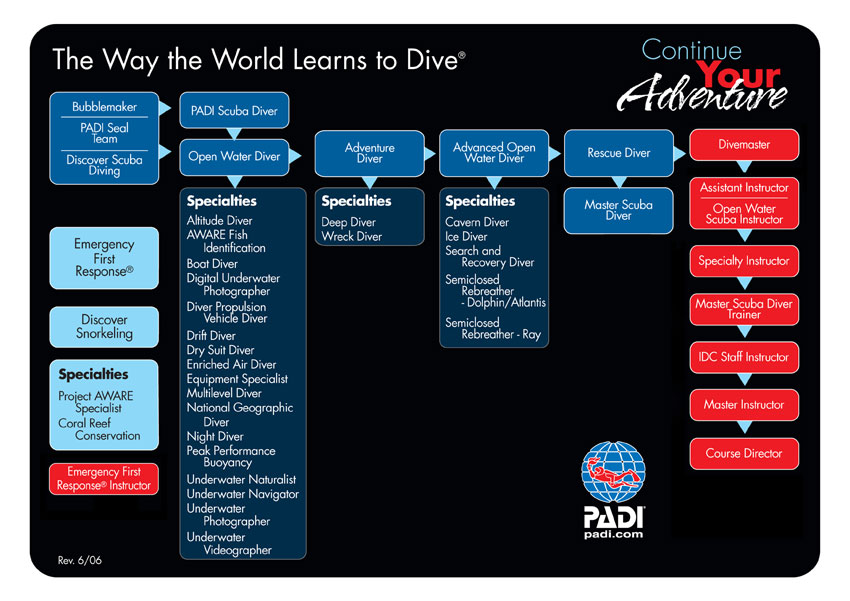 During the IE, the PADI Instructor Examiner Thomas started by introducing himself and asking the people standing in the back of the room to introduce themselves as well. So the first person started, "Hello, my name is…and I am a IDC Staff Instructor for xyz dive center."
"Hello, my name is…and I am a Course Director for abc dive center." I remember that moment so clearly and I thought back then, wow, how cool, I want to be standing there soon, too, introducing myself. After completing enough certifications to become a Master Scuba Diver Trainer, the next big step was IDC Staff Instructor.
In November 2007, four of my newly-certified Divemasters were scheduled to join an upcoming IDC, and I was asked if I wanted to do my IDC Staff Instructor program. In this program I would be responsible for the logistics and organization of the IDC, and helping our Course Director teach in the classroom, pool and ocean.
I never imagined when I took my first breath underwater that I would one day help others reach their goal of becoming a scuba instructor. The Instructor Examination day came, but this time I was standing at the back with the Course Directors and IDC Staff Instructors. The PADI Examiner started his orientation presentation, introduced himself and asked the instructors at the back to introduce themselves, too.
"…my name is Stefan and I'm a PADI IDC Staff Instructor for Blue Season Bali."
As my contract came to an end in early 2008, I decided to leave Bali. I was offered a job as Cruise Director in Raja Ampat, Indonesia to run a 35m wooden live-aboard with 18 crew and up to 16 guests. Me? Really? Wow! Raja Ampat is known for having the highest biodiversity in the world. There is no other place on earth with more different fish and coral species! When does this dream end?
Well it didn't end, as it wasn't a dream, it was / is my life! On my 23rd birthday I embarked on the Archipelago Adventurer II* and a new chapter in my life as a dive instructor. Together with my girlfriend  (now my wonderful wife) we managed the boat and ran dive trips.
* Archipelago Adventurer II doesn't exist anymore :-(
After time on the boat and in Germany, I ended up in the Maldives. I taught dive courses , guided people, did many night dives and enjoyed my life (as far as I could with my girlfriend in Germany). By then I was almost a PADI Master Instructor.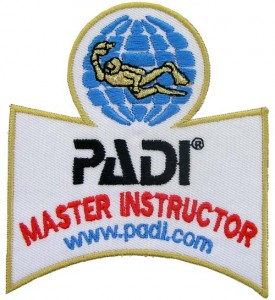 Due to a sickness I returned Germany and couldn't work as a dive instructor for awhile. I did website development for a German Football Club (FC Schalke 04) and made the best of things. Flash forward to 2012, I was back in Bali and team- teaching the IDC with Blue Season Bali and working my way up the ladder to becoming a PADI Course Director.
I was back where I belong I guess. I wrote my application, contacted various people at PADI and notified them about my and Blue Season Bali's plan. At the PADI CDTC Banquet on 24th April 2013, James Morgan, Vice President of PADI Americas, along with other awesome PADI Staff gave me my PADI Course Director Certification!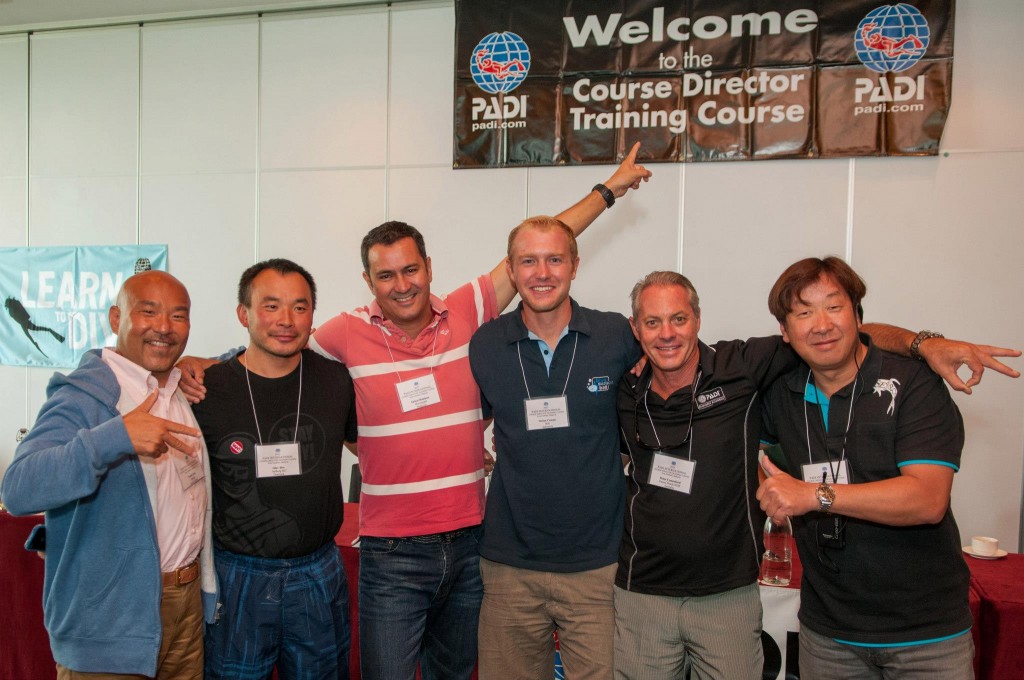 I encourage everyone to  travel and experience an adventure which will change your point of view. Get out of your comfort zone first to find out that this new life is your place to be!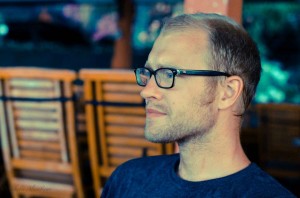 The article above is an abbreviated version several blog posts which detail Stefan's journey from Open Water Diver to Course Director. For more from Stefan, visit his new website www.stefancampo.com or find him at www.idc-Asia.com/padi_idc_blog to read the full, unedited series of blog posts "from OWD to CD."