Diving is a progressive sport. The first dive opens up a whole new world, and from there, it's all about making the next dive and improving your skills so that you can dive in new places and in new ways. But how far will you go? For many, the passion for diving that's ignited on that first dive is enough that they take the leap to becoming a PADI Divemaster or PADI Instructor – a PADI Pro!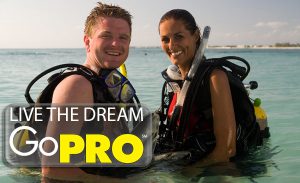 Becoming a PADI Pro certainly takes dedication, but there are rewards for the effort required. PADI Pros can establish careers in some of the most sought-after locations in the world, and beyond that, going pro offers opportunities to travel, builds your confidence and you get to work in an amazing natural environment. And as many PADI Pros will tell you, being able to teach other divers and show them the wonders of the underwater world is a reward in itself. Check out the latest video below to hear from a PADI Pro who is living out the dream.
Professional-level courses are available to divers who have already obtained their PADI Rescue Diver rating. After reaching this elite level, PADI offers professional development and specialty courses that enables PADI Pros to sharpen their skills and prepare to set out on a new career in diving.
From Aruba to Zanzibar, PADI Pros live and dive in locations across the globe. Whether you love exotic escapes or a cosmopolitan lifestyle, a diving career will let you adapt to virtually any location while still doing what you love.
Check out our past PADI Pros blogs to learn what it's like to dive everywhere from Bali to Munich:
Go Pro! Learn more about becoming a PADI Pro.