The Guru spends a considerable amount of time pondering the mysteries of the universe big and small. Well, mostly small but that's another story. One of the most vexing is why people choose to do what they do. For example, why do some people stop taking courses once they become entry level divers? There are, of course many other ways to learn, but taking a class is a great way to learn and gain experience quickly. I was waxing poetic about the PADI Master Scuba Diver program the other day when some friends asked why they would want to complete the program? After all, they had PADI Open Water Diver course certifications.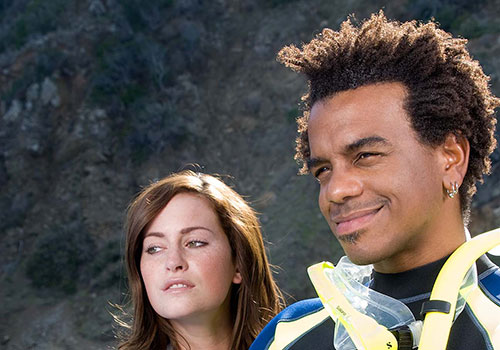 Ok, After slamming my slack jaw shut, and, in my head, running through the fact that getting Advanced Open Water, Rescue, five Specialty courses and logging 50 dives seemed like a no brainer to me, I realized I was speechless. To me, the PADI Master Scuba Diver program is perfect for everyone. For instance:
Those with hyperactivity and focus problems – We all know someone who has the hyperactivity of a Jack Russell Terrier puppy and the attention span of a ferret with a double espresso on board. While that lack of focus might be a problem when it comes to sitting through an opera, it's perfect for the Master Scuba Diver program because you don't have to focus or decide. It's such a diverse program that you get to do a little bit of everything.
It's perfect for Swedes. Ok, while the Smörgåsbord isn't a purely Swedish concept (this buffet-style meal with multiple cold dishes is a Scandinavian-wide idea), it did originate in Sweden. Anyway, the great thing about Master Scuba Diver is that you get to try a wide variety of dishes and get to sample a bit of everything. See? Swedes feel right at home. Not Swedish? That's fine – it's not in the list of requirements, just a suggestion.
Gluttons. There's nothing wrong with too much of a good thing, right? Especially when it comes to diving. For those of us with what I will charitably call a lack of self control when it comes to diving, I give you the PADI Master Scuba Diver program. Want diving? 50 logged dives. Want diversity? Five Specialty courses. Experience? Advanced Open Water Diver course. Mad rescue skills? Rescue Diver. In this case, too much of a good thing isn't too much at all.
Are You Experienced? No, not in the Jimmy Hendrix way. Statistics show that the more you dive the better a diver you become. Not that you really need statistical evidence to prove that you get better at something the more you do it. But, the 50 logged dive requirement for PADI Master Scuba Diver means that you get experienced whether you want to or not. And, I'm thinking you want it.
Do the Safety Dance. Yep, that's right, it's perfect for those living in the 1980s. While nothing can make you "safe" (c'mon you remember your Safe Diving Statement of Understanding, don't you?), you can do some things that can help you be a safer diver. That's one of the many benefits that come from completing your PADI Rescue Diver course, a PADI Master Scuba Diver certification requirement. Plus, Rescue Diver gives you insight into helping others while you're at it. So, I guess it helps you make friends, too. What a course, huh?
Go to the Head of the Class. You all know those people who sat in the front of the class on purpose, raised their hands to answer questions, asked the teacher if we had any homework and turned their assignments in early. (Not that the Guru had any bad experiences in primary school or anything.) Now, in adulthood, we call these people overachievers. Master Scuba Diver is perfect for you…er, them. It's the highest level, the top achievement – there literally is nothing better on the recreational diving side of the PADI System.
Deception. I don't know about you, but when the Guru was a PADI Master Scuba Diver, he wasn't really all that diligent about correcting people when they would assume that as a PADI Master Scuba Diver he had a higher "ranking" than, say, a PADI Divemaster. I know, not really very nice but it was fun. The Guru would strongly suggest, however, correcting anyone who confuses you as a PADI Master Scuba Diver with a Master Diver. They are very different and the Navy tends to get annoyed if you don't clear it up. Again, not that the Guru is speaking from experience or anything.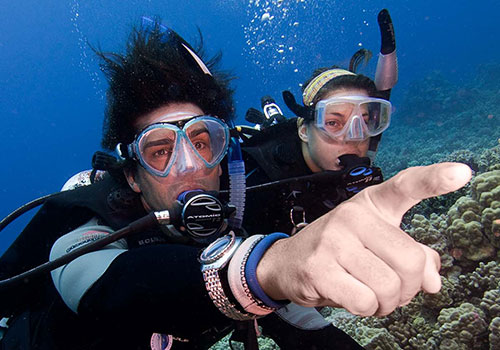 For those who don't fit into any of these categories and who might still be asking themselves why they should achieve their PADI Master Scuba Diver rating? Just look to George Mallory, a legendary mountaineer who was part of three British expeditions to Mount Everest. When asked why he repeated attempts summiting the world's tallest mountain, he replied with quite probably the most important reason in human history – to paraphrase – because he could and it was there.
---
Can't get enough of the Guru? Read past installments here.