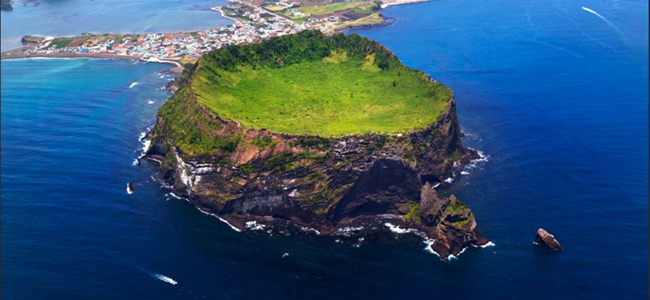 Famous for its cosmopolitan cities, century-old traditions and cutting-edge technology, South Korea is also an exciting and popular Asian dive destination.
There are a number of diving locations off the Korean coastline that are accessible from all of the major cities including Seoul. South Korea is the definition of seasonal diving, with many regions experiencing warmer waters flowing from the South China Sea in the summer months, and colder currents in the winter months.
Below are four popular diving destinations of South Korea.
Jeju Island – Arguably the favorite holiday and dive destination in South Korea, this large volcanic island in the south coast is a stunning destination. During the dive season there is an abundance of marine life including nudibranch, abalones and frogfish. The range of soft corals surprises many divers with a magnitude of colorful walls to explore on various sites. Mun Island and Sup Island are two popular dive sites where you can experience the best of Jeju Island. Topside, you can discover the natural beauty of the island including captivating waterfalls and pristine beaches.
Uljin – Located on the eastern coast of the country, Uljin is another popular dive destination of South Korea. Deco Point and Iron Tower and two well-known sites in this region. There are also a number of shipwrecks to explore along this exciting coastline. The marine life is varied and includes numerous types of eels which frequent many of these sites and wrecks off the coast. Above the surface, Uljin offers a charming coastline and plenty of natural rural beauty for visitors to take in.
Dong Hae & Gangneung – These regions are also situated on the more protected eastern coastline of the Korean mainland. The pristine waters attracts an array of fish species and sea anemones to mesmerize divers. Munam Beach, Bongpo Beach, Chuam Beach, Ingu Beach and Young Jin are the most popular sites that are frequented by local divers. While you are in the region, Mukho Harbor and Mureung Valley are easily accessible topside highlights.
Nam Hae – An island that is actually connected by road, Nam Hae is a great getaway location for divers in the south of the country. Most of the sites around Nam Hae are home to wealth of marine species including wrasse, starfish and octopuses. Geojae, Tongyoung, Namhae, Mijo and Sangju are popular dive sites located on Nam Hae. The various islands and hidden beaches also make this a favorite destination of many divers and tourists.
The above sites are just the start of diving opportunities available in South Korea. For more information about diving in South Korea, locate a PADI Dive Shop.