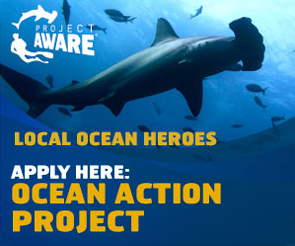 You don't need any super powers to be an ocean hero… in fact all you need is an innovative, results driven project. Entries are now open for this year's Ocean Action Project, brought to you by our good friends at Project AWARE. The initiative is aimed to support a venture that needs some assistance to make a wave of difference.
If you have a project that is action-oriented and strategically addresses root causes of marine debris or shark and/or ray protection issues, now's your chance to make your project a realty. Check out the winners from last year
Getting involved is easy:
1. Check out the guidelines and make sure your project is suitable to qualify
2. Fill in the application form and apply before October 31st
3. Ensure your project is competitive – once finalists are chosen voting will open for the public
If you know someone who is working on something special to save our marine environment then please invite them to apply. Stay tuned for some exciting action-oriented projects that you can vote for in November.