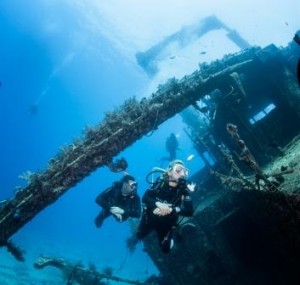 Traveling the world to explore new places and experience different cultures is a dream shared by people everywhere. But few are actually able to do it as the schedule of modern life (school, work, marriage, kids) often takes priority.
Some people do make the time to follow that dream, however, and see the sights of Europe, go on a safari in Africa, hike the Himalayas or sail the South Pacific. It's not as difficult as you may think. There's even a term for it: "gap year."
A gap year, for those who aren't familiar with the term, is defined as the time used to travel between life stages. Typically  high school graduates take a "gap year" before attending college to explore and see the world. But anyone can take a gap year, provided they have enough money to fund their travels, or possess the skills to find jobs wherever they go. And this is where PADI can help.
PADI Divemasters work all over the world, sharing the underwater world with others while themselves exploring new and exciting places. The employment opportunities are as endless – anywhere there's water. Read about a day in the life of a PADI Divemaster working in Bali.
As you train to become a Divemaster, you'll improve your dive leadership skills through classroom and independent study, increase your stamina, problem-solving abilities and confidence. Then you will put this knowledge into practice through a structured internship or practical training exercises.
When you complete the program and become a PADI Divemaster, your new skills will allow you to mentor, motivate and lead other divers, while sharing the joy of their newfound passion.
So dust off your passport, decide where you want to go, then take the first step of your adventure by signing up for a PADI Divemaster course. The video below will tell you more about the adventures you can have
as a PADI Instructor – the next step after Divemaster.