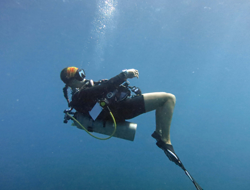 When asked, "what do you want to be when you grow up?" What child answers, "I want to work in a cubicle!" Unfortunately for millions of us, that is our lot, but it doesn't have to be that way.
Meet Rika – a former legal administrative assistant who kicked her cubicle job and now works as a PADI Instructor on the island of Roatan in Honduras: "I wanted to see what it was like to be excited to go to work every day and love your job. I'm a year into working as a dive instructor and I still love going to work every day!" says Rika.
"I have always had a passion for sharing knowledge. I thought for a long time I wanted to be a school teacher, but it wasn't quite the right fit for me.
"Teaching people to dive and about all the flora and fauna under the sea is a great match for me. Once I realized that I couldn't get enough of diving, I knew that I would love to teach it. Becoming an instructor was a natural progression for me after finishing my divemaster internship. It was also a good way to keep learning and growing as a diver.
"My favorite part of my job is taking people on their first open water dive, and seeing their face light up once they realize what's actually down there! That never gets old."
Rika was inspired to try diving while on holiday with a friend. "I don't think I entirely knew what I was getting myself into, but after my first open water dive I was hooked."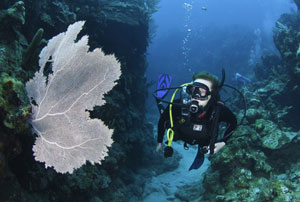 "I spent months trying to decide if leaving a cushy full-time job and selling everything I owned was a good idea. I talked to enough friends, family and co-workers who all said the same thing – 'There will always be another job, another apartment, and more stuff you can buy when you get back. Go now before you're tied down.' They were right.
"I moved to Roatan to do my divemaster internship and decided to complete the IDC, and then I never left. After I completed the IE, I was thrilled to be offered a position at the 5-star luxury resort where I did my IDC, and I've been working for them ever since."
Rika shared some valuable insights for anyone considering a career as scuba instructor in a resort area:
"Generally the career opportunities are good for those who are interested in leaving home behind and heading somewhere in the world to teach diving. The PADI job board always has lots of postings on it! I haven't met anyone yet who has done the IE here and not been able to find a job anywhere in the world, although some decided they'd rather go home and work part-time at their local dive shop. A lot of the instructor jobs in this industry are seasonal; so if aspiring instructors are okay with 'chasing' the busy season around the globe if necessary – I'd say career opportunities are great!"
Here are some of her tips:
Gain experience as a Divemaster
Try to get as much experience as possible before becoming an instructor. I wish I would have had more time to work as a divemaster and gain experience before doing the instructor course. It will help you and your future students in the long run if you've already run into many of the common scenarios.
Hone your dive skills
Set a good example for [students], so excellent buoyancy is required. We dive in a protected marine park where "no touch, no take" is a mantra. You have to be able to show your students how to dive responsibly.
Leave your ego behind
A scuba instructor needs to have a LOT of patience and leave their ego behind. A 'I'm a better diver than you' attitude will not go far in trying to teach people how to dive, but a willingness to share your passion (even if it means you have to show someone how to clear their mask 37 times) will.
Language skills – a major plus
I found a great job just [speaking] English, but a lot more doors open with multiple languages, so I would recommend that first. If you don't have other languages, boat handling and equipment maintenance also seems to be in high demand.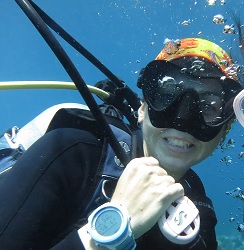 "Aside from that – just buy the ticket!"
When asked what surprised her most about working as a scuba instructor on a resort island she said, "First of all, I thought I would have WAY more free time than I actually do! We all work six days a week for eight and a half to ten hour days (more with night dives). My one day off is filled with getting groceries, doing laundry and making lunches for the coming week. I still find time to have fun, but I thought I would have a lot more."
"From guests, I get the impression that they think living here for us is like being on holidays… couldn't be further from the truth! We don't just go out and dive and then hang around. There's tanks to fill, emails to answer, knowledge reviews to go over, lockers to clean and gear to repair. They're very long days. If you don't love what you do, or you want to be on holiday, this type of working situation is not for you.
"People think since we dive and get paid that we must just be having fun all the time. We love to dive and most of the time it's fun, but you have to do it when you're sick, when you're tired, when you're sunburnt and when you haven't had a dry day in three weeks. There's lots of perks too, but I don't lay around at the beach on work days.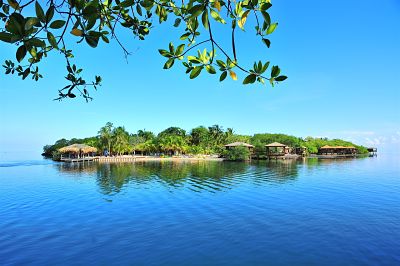 "Lastly, I don't think a lot of people are prepared for how expensive it is to live on a touristy island while making the small salary of a dive instructor. I make enough to live here, but not enough to travel around or buy new gear all the time or party at the bars every weekend. If you're only in it for the money, do lots of research before you decide on an area to work. Most people who come to Roatan are shocked at the accommodation, utilities and food prices. They're not much cheaper than North America and the wages are very low in comparison."
Rika also shared a story of an unexpected perk of working as a scuba instructor, "I took a two-month hiatus last holiday season. My divers for the week were cruising on a private megayacht and asked me to join the rest of the trip as the dive instructor on the boat. We went all over the Caribbean – talk about a stroke of luck! Had I not been working as a dive instructor here, I would have never had such an incredible opportunity."
When asked about her critter bucket list, Rika gave us a run down that would be any diver's dream: "So far: wild spinner dolphins, hammerhead sharks and whale sharks have been crossed off the list."
The creature she still hopes to see is a manta ray, "My friend did the night dive with manta rays in Kona and it looks awesome! I'd also like to dive in California or the United Arab Emirates where everyone seems to be seeing a million crazy-looking nudibranchs on every dive. I love nudis! We have them here, but I don't see them often."
One of the best things I did when starting this journey to become a dive instructor was chronicle it through my blog, Cubicle Throwdown. It's been an excellent way to share progress and updates with friends, family and followers. I've made all kinds of connections through it and have had some amazing people find me through there and tell me their stories.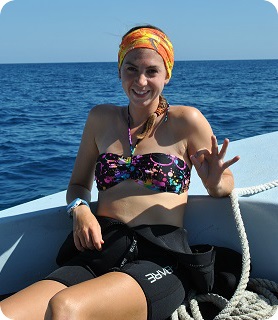 It's also a resource for others looking to do the same thing. When I first decided to become a dive instructor and move to Roatan I couldn't find any practical information online about budgeting/finances, living here, etc. I've had others find my blog and work their way up to instructor here and thank me for all the information, and it makes me so happy!
Check out Rika's recent experience diving with a whale shark (video below). Follow her  future adventures at www.cubiclethrowdown.com
If you're ready to escape your cubicle, read more about becoming a PADI Scuba Instructor and contact your local dive center or resort to get started.
Learn more about what the scuba diving is like in Roatan on ScubaEarth.