Scuba diving is exhilarating, but when there's historical allure, it can bring the experience to a whole new level. Take a step back in time and get a unique glimpse of an underwater time capsule with these three poplar historical dive sites.
1. The Underwater Archaeology Park of Baiae  
Location: Pozzuoli, Italy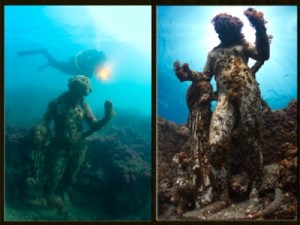 A protected marine area since 2002, the Underwater Archaeology Park of Baiae is a breathtaking place to explore. Underground volcanic movements caused the once thriving coastline of Rome to slowly be swallowed by the sea. That means divers won't only get to experience stunning marine life, but they'll see a fascinating underwater world that includes paved plazas, statues and other archaeological intrigues. Don't miss the beautiful statue of Dionysus, amazingly preserved after all these years. 

Find a PADI centre nearby with our PADI store locator
2.S.S. Yongala Wreck
Location: Great Barrier Reef, Australia
A 1911 cyclone sunk the S.S. Yongala, a 109-meter/357-foot luxury passenger ship and freighter. In just 34 meters/110 feet of water 80 kilometers/50 miles off Townsville, it is one of the world's most accessible and popular dive sites. As an array of marine life now calls the wreck home, it's an enchanted sight for divers. Turtles, Giant Queensland groupers, barracuda, eagle rays, yellowtail demoiselles, Maori wrasse, sea snakes and more can readily be seen, but will not soon be forgotten.
Find a PADI centre nearby with our PADI store locator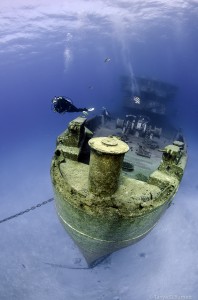 3.Kittiwake
Location: Grand Cayman, Cayman Islands
Decommissioned in 1994, the ex-USS Kittiwake was a submarine rescue vessel that was towed to the Cayman Islands for the purpose of establishing an artificial reef in 2009. The U.S. Maritime Administration (MARAD) donated the vessel, which today is a top destination for wreck divers. With seemingly endless rooms, divers can explore the decks, the mess hall, recompression chambers and much more, lending unique insight into what it was like to be a sailor on the ship in the mid to late 1900s.  Also see PADI.com for more info
Find a PADI centre nearby with our PADI store locator
These are just three amazing historical dive sites across the globe. Remember, it's critical to protect and conserve the underwater environment so many more divers can experience the wonder of the location for many years to come. Learn more about historical dive sites at www.scubaearth.com/dive-destinations.