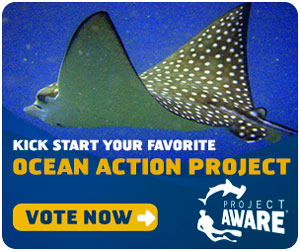 Help a conservation dream come true! Project AWARE's Ocean Action Project supports individuals working on ocean and marine life protection at a local level.
Show your support for these ocean heroes by visiting the Project AWARE Facebook page,  and voting for your favorite finalist in the Ocean Action project. These grassroots movements are key to protecting our oceans, and these dedicated individuals need your support with your vote. The winner will receive key backing from Project AWARE to give the extra push the project needs to help it succeed in the months ahead.
Your vote makes a difference! Here is a summary of the 10 finalists – vote today and show your support! Full project descriptions are available on the voting page.
1. This Project is Rubbish! South African Shark Conservancy, South Africa
The South African Shark Conservancy will compare the amount and the type of microplastics that enter the environment between beaches which get cleaned daily versus beaches which do not get cleaned.
2. What Goes Around Comes Around – Communicating Marine Debris Science Through Visual Arts, The Plastic Ocean Project, USA
Plastic junk collected from thousands of miles of ocean research has been transformed into a visual arts exhibition which is now travelling across the United States to educate people about ocean pollution.
3. Protecting Africa's Sawfishes, Marine Megafauna Foundation and Eyes On The Horizon, Mozambique
This project aims to work closely with local fishermen to document where in Mozambique sawfishes still exist and to educate local communities about the importance of protecting sawfishes and their habitats.
4. Ecotourism and Awareness for Manta Ray Conservation, Planeta Oceano, Peru
The need to engage communities in manta conservation is essential, so Planeta Oceano will kick start a manta ecotourism and awareness project in Peru.
5. Developing a Solid Waste Management Network within Koh Rong Archipelago, The Song Saa Foundation, Cambodia
The majority of marine debris originates from land. The Song Saa Foundation will establish a solid waste management center and community education programs for the Koh Rong Archipelago.
6. Protecting Sharks and Rays from Fishing Boats in the Andaman Sea, Blue Guru Conservation, Thailand
Blue Guru will continue their surveys of shark, ray and fishing boat sightings to build key arguments to expand zoning and expand their work to include Koh Phra Thong sites.
7. The Marine Debris Thermometer Wall, Association of Coastal Conservation of Mozambique, Mozambique
This project brings together the entire community to take part in monthly beach and underwater cleanups and build a marine debris thermometer wall to measure progress.
8. Marine Debris Action Teams Create Plastic-Free Sea Turtle Habitat, Costa Rica
Partnering with local and international conservation groups, more than 1 ton of marine debris will be removed from important sea turtle nesting sites in Costa Rica.
9. Thailand eShark Project, Shark Guardian, Thailand
The Thailand eShark project will collect historical data from past diver logs as well as future dives where sharks are sighted or not sighted.
10. The Great Fiji Shark Count, Fiji Dive Operators, Fiji Islands
Information collected by divers aims to demonstrate that living sharks are more valuable than dead ones, and that shark fishing for the fin trade needs to stop before marine life populations crash.