Continued Education and Diving Deeper
It feels like a life time ago, but only 10 months have passed since I was just your average Advanced Openwater Diver looking to progress their diving.
Now as I sit here and type this my thoughts are already on my next trip to finish off my Trimix 65 training.   Anyone else feel there is not enough holiday for all the diving you want to do?
Over the past 10 months I have completed my PADI Tec Deep certification taking in PADI Tec40, 45 and 50 and found a new passion in Sidemount diving.  Its been an amazing journey and one that I had not planned at all.
I had decided to finish my Tec deep on a sidemount configuration, so the first few days were spent tagging along on a recreational sidemount course just as a refresher while my buddy for the Tec course got his first taste of sidemount.  It gave me the opportunity to continue practising equipment setup, getting the equipment on in the water quickly and perfecting my trim in the water all while taking part in some great fun dives.
[wzslider]
Theory = Knowledge
Even though I had read a lot of the Tec Deep manual during the Tec40 course, I spent much of the 4 hour flight out to Egypt reading over the whole manual again and refreshing my knowledge, I feel its vital to get a firm grasp of the principles as this is your bases for future knowledge development.  I know a lot of people think  that the theory for Tec diving must be hard and complicated, and during my first skim over the manual I thought the same.  But NO!  Actually P02, CNS, OTU and SAC rate are all really simple to grasp, and the way you learn with constant re-enforcement and practical examples really helps make you feel confident of mastering the subject.   Also anyone freshly through the Rescue Diver course will breeze through sections on Decompression Illness DCI / Decompression sickness DCS.
In the evenings during the recreational sidemount dives I spent time completing the knowledge reviews so I was getting quiet eager to get that 3rd and 4th tank on and get in the water!
Its all about Trim!
Knowledge reviews done the next day was spent at the buoyancy park.  We took 4 tanks, but started with 3 fine tuning skills from our Tec sidemount as a refresher, and then we moved on to the 4th tank.  Perfecting Trim with for tanks, moving through water and also drills, Out of Air, free flows, NOTOX, staging and then finally deco stops with NOTOX drills along a line..every time we moved too far up or down we started again.  If you're not a trim Ninja after a day of dives like this then there is no hope for you!!   I don't know about you, but I find after a good days diving I'm always tired and very hungry so Dahab's finest King Chicken was on the menu as we sat down to plan our next days deco dive to 45m at possibly my favourite dive site – The Canyons
After the 45m dive we next planned out our 50m dive and followed that one up with the exam.  I've always been terrible at exams (well thats what I told my parents all my childhood) but this one I found myself flying through, even turning the page and seeing the long scenario it asked me to work out, wow didn't even need to think the answer is obvious.  BAM.  Thats the value of good training.  Solid knowledge.
Going through the Arch of Awesome
Following the refrain of onwards and upwards or maybe in my case that should be onwards and downwards.  I now took the opportunity to do my 1st Trimix dive.  What a dive it would be, a sidemount trimix dive through the Arch at the famous Bluehole of Dahab.  The evening before we started our planning and getting our tanks ready for blending a 20/20 Trimix  that is 20% O2 and 20%Helium.   The next morning we arrived at the centre early (even Greg Desatnick managed this!!) and started analysing and labelling our tanks and getting the gear ready for our favourite Dahab taxi Mr Mansour.
Once at the site we unloaded and did our final equipment checks before sitting down to have a tea and go over our dive plan with not too many distractions from the Freedivers doing their yoga in front of us.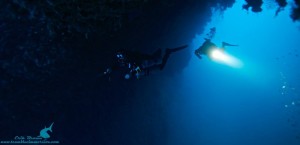 Kitted up we headed into the water, for what was going to be a truly amazing dive.  This was one of those dives that when not concentrating on your dive plan you brain is just saying whoop whoop – truly amazing. I'd heard so much about the arch and had also dived the rest of the site before as others with the correct training went through the arch.  This time it was my go, and down we went and through the arch, turned hung in there in wonder for a moment then started on our long way back up.  It was one of those "This is Why" moments.  Baring a freeflow on my deco tank on the way up which was quickly and calmly solved using my training the dive was perfect, our plan followed and 3 happy divers emerging from the water equally stoked instructor and students alike.
Diving in Dahab follows its own time, but unfortunately mine was up again, so with many great dives and lots old friends met again and many new ones added I headed back home.
Massive thanks to all the guys at Team Blue Immersion  in Dahab for the great hospitality and dedication to getting their students not just through a course but owning the course.    Also thanks to Erik Brown Staff IDC instructor 285393 for continuing to be my Sidemount Guru and mentor.  Not forgetting Greg Desatnick MSDT 35225 for being a great buddy.  Of course special mention to Trimix the dog  for drooling in my flipflops when ever he got the chance.
I hope this blog gives you the urge to get out there and learn more, take things further and master your skills.  Theres a PADI course out there for all of you, even if you don't want to go down the Tec route.
[googleplusauthor]