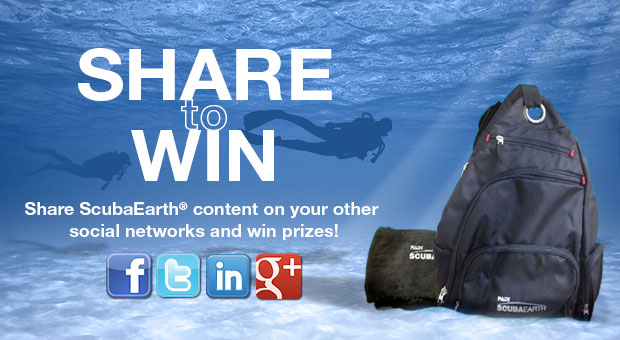 As a scuba diver you're one of the interesting people you know – really! I once had a boss who dated a Hollywood Agent. She went to A-List events like the Grammy Awards, and backstage she was a celeb amongst celebs for being a scuba instructor!
You've seen parts of the world others can't even imagine (even if it's only a few hundred meters off the beach). Be proud of your adventuresome life and show it off to family, friends and co-workers online. You'll not only give others a glimpse into the world of scuba diving, but you'll also get the chance to win ScubaEarth swag from PADI including backpacks, T-shirts, hats and blankets.
To participate in this contest, you just have to be a ScubaEarth user and share your experiences on one or more of these four social media platforms:
LinkedIn: Your professional acquaintances might know you as a hard-working, friendly co-worker, but do they also know that you're an underwater explorer? Give co-workers the chance to get to know you better and use LinkedIn to share your PADI certifications.
Google+: You share photos and videos with other ScubaEarth users, so why not share them with your Google+ circles as well? Just look through your gallery and find the photos or pictures you want to post. You might want to include recommendations about each dive spot in case a connection decides they need a local tour guide.
Facebook: Not satisfied with your current gear? Share an item from your gear locker on Facebook and ask the other divers in your network for replacement suggestions. You can also mention what you liked or didn't like about a certain product to help others who are searching for gear as well.
Twitter: In 140 characters or less, share your latest logged dive on Twitter. If you have Twitter followers who are also scuba divers, say something about the conditions, or how you rate the dive spot.
The Share to Win contest only goes through December 2013, so the time to share is now! A weekly prize will be given to ScubaEarth users who have shared the most content on their social media sites.