With the New Year now upon us, chances are that you know people either valiantly struggling to keep their resolutions for 2014 or those that have already given up. This is not an indictment by any means – just an observation. For most of us, it's pretty simple. Life just gets in the way. And, what is true for resolutions can be equally true for diving in general.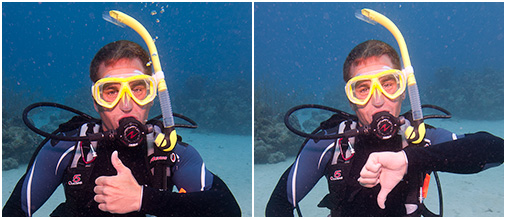 There are quite a few divers that the Guru affectionately calls "dive nuts" out there – you know the type that dries up if they aren't in the water at least several times a week.
But, there are also a lot of divers that have let diving take a back seat and slip to the lesser of the long list of priorities – maybe only diving on holidays or a handful of times a year. While the Guru understands, the Guru also feels that this is – in an admitted bit of hyperbole – tragic. Diving is, in the Guru's self-esteemed opinion, the greatest thing in the world. So, for those less active divers, why aren't you diving more often?
Are you satisfied with the amount of diving you're doing? Do you think it's too expensive? Do you have a life event (like your own little Guru coming into the world) that has changed things? Did you have a bad experience? Is it simply not for you?
On the flip side, what would help you become active again? Would it be a trip to dive a lush coral reef, having a trusted dive professional by your side? Meeting people to dive with? Lower cost options? Getting a refresher course to be comfortable in the water?
Regardless of your answers, the PADI organization is looking for your opinion. You can share your thoughts by taking a short survey.
Your answers might help develop programs that will help people get comfortable getting back in the water.
Even if you decide you don't want to share your thoughts online, you can always consult one of the more than 6200 PADI Dive Centers and Resorts around the world. They'll be able to help you get back in the water this year.
---
Can't get enough of the Guru? Read past installments here.