Growing up watching the American TV Series 'Sea Hunt' was Martin Edwards' first introduction to the world of scuba diving and he hasn't looked back since. Martin's inspirational childhood lead him to his PADI certification in 1984 on the Great Barrier Reef, Australia.  In 1986 Martin bought his first camera, marking the beginning of yet another passion.
Now, 30 years later, Martin is not only a PADI Open Water Scuba Instructor, but he has also managed to combine these two passions, diving and photography. When completing his Divemaster course, Martin remembers his Instructor telling him "[you] love diving too much!" Martin has never lost this passion, and it is this that shines through in his images.
Martin claims it was a natural progression for underwater photography to be a key factor in his diving experience. "We see so many beautiful and interesting things when diving that words don't do it justice. The only way to share these memories is with either video footage or photos." Lucky for us, Martin has captured a superb range of these memories to share with the world.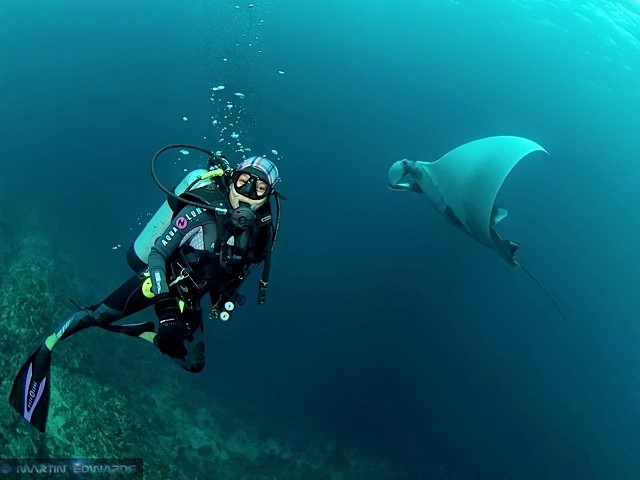 Ticking off some of the big names in diving hotspots like Australia, Egypt and Thailand, Martin appreciates the diversity found at these locations. "From soft corals and the smallest marine creatures to Whale sharks, they can all be found here."  He lists Osprey Reef in Australia and various spots in the Similan Islands in Thailand as some of this favorites.
Whilst proclaiming that he is not an adrenaline junkie, Martin loves a good close up with some of the giants of the underwater world. "I never tire from the buzz of getting up close and personal with sharks, Titan Trigger Fish (probably my favorite due to the colors, textures and their attitude), along with moray eels, turtles and mantas – next to these you feel insignificant."
As a tropical diver Martin enjoys photographing wrecks and coral gardens, however, a great percentage of his work is focused on people, completing an assortment of diver portraits. "It's important to capture a special moment or memory for them, adding perspective and interest to the photos."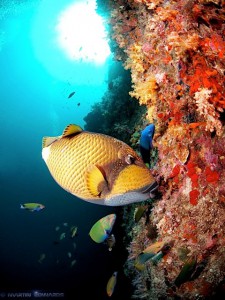 Martin has now turned his attention to his premium range of images, which he sells and distributes worldwide. He also has a range of new projects planned.
Navigating the underwater world has its own set of challenges before you introduce another element, like photography into the mix. Martin's top tips to master before picking up a camera are multi-tasking and buoyancy control. Once you are comfortable with these two things, he suggests starting with a quality compact camera and housing and then spending some time looking at other photos to see what you like in terms of composition, lighting and balance. Ensuring that you take proper care of your equipment is an important point for Martin, "On a daily basis I see expensive gear in poor state, due to neglect and lack of training."
The PADI Digital Underwater Photographer course or the PADI Underwater Photographer course is a great place to start to familiarise yourself not only with your camera, but also the techniques and strategies for taking photos underwater.
Follow Martin on Facebook or visit his Flickr account to order one of his prints.