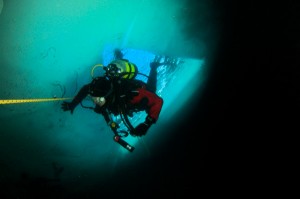 Scuba divers are an adventurous group, always looking to expand their horizons and try new experiences. If you're looking to be challenged and want to try something a little out of the ordinary, the PADI Ice Diver course is the perfect solution. Ice diving is a totally unique experience from typical recreational diving and will give you an edge over many other scuba divers. Just imagine diving under a solid sheet of ice and exploring where few divers have – is your adventurous side ready for the challenge?
If the thought of ice diving makes you shiver, you should know that it's actually not that cold! Divers who take the PADI Ice Diver course will learn about the proper equipment to help ensure they have warm dives. When you wear a suit that offers good exposure protection, you'll forget all about the cold and just enjoy the incredible sights that you can only see under the ice.
For obvious reasons, ice diving is not something you can do all year round and you will have to travel to specific destinations – which just makes ice diving all the more exciting. During the PADI Ice Diver course, you will learn more about how to choose a site that matches your diving level and comfort zone.
Ice diving is an experience like none other – not even regular scuba diving. To learn more about PADI Ice Diver, visit padi.com and contact your local PADI Dive Shop.