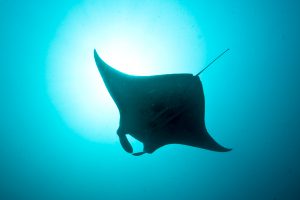 This small island nation off the southern tip of Sri Lanka is quickly becoming one of the premier dive destinations in the world. The warm waters of the Indian Ocean, vibrant coral reefs, and lively marine life keep divers coming back for more. Whether you want scuba diving to be just one activity among many on your vacation or the central theme of the trip, you can't go wrong with this nation of more than a thousand islands.
Whale Sharks, Manta Rays, Moray Eels, and Reef Sharks are just a few of the inhabitants that you may catch a glimpse of when you take a dive in these pristine waters. After the 2004 tsunami that hit the islands, the coral reefs were left damaged and bleached. Thankfully, the past 10 years have been a healing period for the reef and it has made an impressive recovery. If you are a diver who gets a thrill out of seeing marine life up close and personal, you shouldn't miss this destination.
While planning your trip, be sure to check out some of the best dive areas on the islands.
Maaya Thila – This is one of the most famous sites in the Maldives. Day or night you will see wonderful activity from white tip reef shark to octopus and turtles.

Sunlight Thila – This formation of two small reefs attracts giant Manta Rays to the plankton congregation. If you look up to the surface from the sandy bottoms in the season between March and October you will see Mantas being cleaned by wrasses.

Banana Reef – This was one of the first dive sites discovered in the Maldives and continues to be one of the most popular. On the eastern side of the reef, rocks have broken way, attracting various schools of reef fish and large marine animals to the site.

The wreck of the Maldives Victory – West of the Hulhule, the wreck site of the 1981 freighter has a mix of mystery, intrigue and beautiful reefs.
Unlike many other exotic dive locales, this paradise has everything you could hope for at an affordable price. With beautiful sandy beaches to explore while you're on land, it is surprising that you can afford this trip on most any budget. There are no shortage of resorts, so you can take your pick wherever you want to visit. Because most places in the area offer dive trips, there are competitive prices and great deals all around.
For more information on all the best spots to visit in the Maldives and to gather all the gear you will need for your trip, visit PADI.com and locate a PADI dive shop.