As one of the most popular and cosmopolitan cities in the world, Sydney is a lively, exciting and beautiful place to be. With the Sydney Harbour Bridge and Opera House in the background, a boat ride out on Sydney Harbour, particularly on a warm summer's day, can make for a fantastic day out.
Until now, only those who put on a wetsuit and tank truly understand what kind of adventure awaits beneath the surface in and around Sydney Harbour. Let us tell you, there are some fascinating scuba diving locations around these parts of Sydney!
As you may already be aware, Google Street View has gone underwater, showcasing some of the beautiful parts of the world to those who have not yet had the chance to dive it an see it themselves.
It is very exciting for us that the Catlin Seaview Survey, who uses a 360 degree underwater camera to capture these images for Google, is currently gathering footage throughout Sydney Harbour, Bondi and Manly areas. This will allow for divers to research and review where they have been diving, or for non-divers to get a taste of what extraordinary marine life exists below the surface.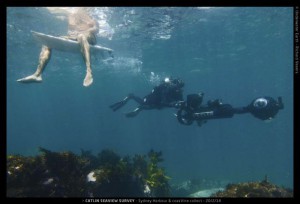 Some marine life already captured includes sea horses, cuttlefish, bull sharks, kelp forest and there are even a few wrecks, small and large in size.
Sydney surveys will be unveiled their footage in November at the IUCN World Parks Conference in Sydney, allowing anyone to take a virtual dive into the middle of Sydney's underwater world.
Want to know more about scuba diving in Sydney? Read our ScubaEarth Australia destination overview or contact a Sydney PADI Dive Centre for dive site information.