Manuel Bustelo is a thrill seeker. From skiing, mountain biking or high altitude trekking, Manuel loves it all and the adrenaline rush that comes with seeing the world from a unique perspective. He recalls contemplating sunsets at 6000 meters, "I thought that mountaineers were the lucky ones who could appreciate nature in a very different way from those who stood on lower lands. I just couldn't imagine that anything more beautiful than those views at high altitude could exist, or more thrilling than high speed downhills on a mountain bike. Until I discovered the underwater world."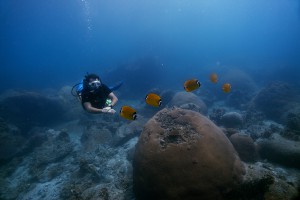 It was eight years ago, whilst exploring South America that things changed for Manuel. A friend mentioned scuba diving on Roatan Island, which is found in the Bay of Islands, Honduras. Being an adventure seeker, Manuel could hardly resist the challenge. He took his PADI Open Water Course and discovered much more than the vibrant marine ecosystems so full of life. He discovered his love of scuba diving and as they say, the rest is history.
Eager to learn and improve, Manuel returned to Roatan to complete his PADI Divemaster certification in 2010. He shares a unique relationship with his PADI Instructor, who took him from Open Water all the way through to the completion of his Divemaster course. Nowadays their relationship is no longer just that of student teacher, they share a deep passion for scuba diving and a strong friendship.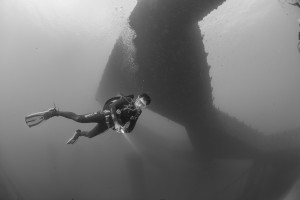 Manuel has had such a diverse range of diving encounters that pinpointing a favorite is a challenge, "each dive site has given me a unique experience. Roatan's coral reefs sparkle with life, Drake Peninsula (Costa Rica) has some awesome pelagic creatures, Koh Tao's (Thailand) triggerfish's grumpy behaviour is one of kind and Ibiza's dive sites offer much more surprises than you could expect!"
All these experiences have resulted in countless dive stories to have you in stitches, in awe and on the edge of your dive boat ready to forward roll straight into your own underwater world. "I probably have enough to put away the most voracious readers!"
"There is one mystical moment though. Documenting dive sites in Koh Tao, I worked with a wonderful friend, skilled diver and cameraman, Aarny. We decided to take some shots at the 50m long Satakut wreck, lying at 30m. Plunging down to the Satakut we spotted bubbles from a few divers who were already leaving the wreck. A thick thermocline was hitting the starboard and we were headed straight into it. Emerging from the murky waters, all other divers were gone. The ghostly look of the wreck, as a result of the water temperature difference, was magical. We couldn't ask for better conditions as we drifted in absolute silence, enjoying the marine life amongst us, the only ones on the entire dive site."
View the recorded footage: Koh Tao Wreck Diving
Roatan's annual coral spawn brings yet another magical diving experience into Manuel's repertoire. "I felt I was diving in the most alien world that full moon, August night when the coral spawn begins. Creatures that normally hide from flashlights ignored the lights and travelled the coral in a frenzy: lobsters, crabs, octopi. Clouds of sperm and spherical eggs where everywhere."
Having dived in so many varied diving conditions we asked Manuel to let us in on his diving secrets. What he considers the most important skill for a diver to have.
"Safety comes first always. I believe that skills are developed and kept based on your mindset. As a conscious diver you will certainly develop as much skills as necessary to safely dive a wide variety of conditions. Improving your knowledge and experience with PADI courses and self-education is very important.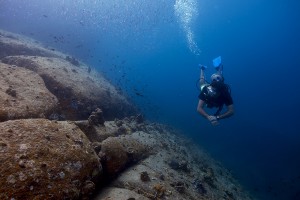 Having said that, there's a particular skill I believe all divers must have. This one is not technical per-se, it's a life attitude: the 'sustainability' skill. Divers become ocean ambassadors. We have the wonderful and unique chance to see with our own eyes the fragile, interlinked and important underwater ecosystem. As sustainable divers we should always take care of the environment we are  diving amongst, discuss with local dive centres how much they are involved in marine conservation, engage in ocean species protection campaigns and become a voice to spread ocean love. When we dive we are granted an exclusive privilege to enjoy the astonishing beauty of the underwater world. Therefore we are also responsible to protect it and ensure future generations will enjoy it too."
Next on the agenda for Manuel is diving the Red Sea, and the Solomon Sea and hopefully spotting a whale shark along the way, or sharing the water with a leopard seal in Antarctica. Diving under the ice is his ultimate dream!
Locate your nearest PADI Dive Shop and go diving!
To learn more about ocean conservation and how you can take part visit www.projectaware.org
To find out more about Manuel and his adventures visit www.manuelbustelo.com