Your life wouldn't be the same without diving, and our oceans and waterways won't be the same if they are not protected. As divers, the ocean gives us so much to look forward to and today we ask that you take a few minutes to give back by making a donation to Project AWARE and signing the pledge to follow Project AWARE's 10 Tips for Divers to Protect the Ocean Planet: www.projectaware.org/10Tips
Already taken the pledge? Help us spread the word about good diver behavior and underwater stewardship.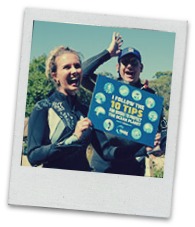 Take a selfie with the "Tips for Divers" pledge. Tag your photos with #10Tips4Divers and share it across all of your social media accounts to spread the word and show your support. Whether you encourage others to make a pledge or just help spread awareness, sharing your knowledge and passion is the first step.
Share Project AWARE's 10 Tips on your social media outlets.  Click here for the 10 Tips PDF

Click on the artwork pictured above and save to your computer to upload as your cover photo on Facebook or Google+.
Download and print the 10 Tips for Divers poster. Share your knowledge by posting it at work, school or at your local dive center. You can also request a copy by emailing information at projectaware dot org with your contact details.
Share the handout (PDF) Are you a member of a local dive club? Print some of the the 10 Tips hand-outs to share with fellow divers. It's a helpful reminder of how we can be stewards for the underwater world we love so much.