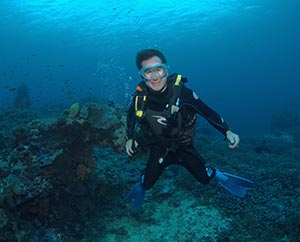 PADI recently interviewed Cameron Schwaiger from Kew in Victoria who took up his dream job as a PADI Divemaster at Academy of Scuba, a PADI 5 Star Instructor Development Centre in Glen Iris and Rye.  
Describe a typical day in your working life as a PADI Divemaster.
For me diving is an activity I love to do outside my full time work. It normally involves getting up early on the weekends and making my way down the Mornington Peninsula. I discuss with the staff in the dive shop about who will be diving that day, to understand what their experience is.
For a guided dive, I provide the divers with the briefing and find out what they most want to get out of it and if anyone has concerns.  After the dive, we usually discuss what we saw and any other relevant points about the experience. Many of the divers often become friends and sometimes I think the dive is just an excuse to catch-up with others!
When I'm assisting on a course and haven't worked with a particular Instructor before, we will begin with a discussion on how the course is to be run and what their expectations are.  I help with the gear, answer any questions and make the students feel comfortable. Then the fun part begins – the dives!   My main role here is to help keep a watch on the students and assist them if needed. After the dive, we return the gear, discuss the diving and complete the paperwork.  Finally it's congratulations to those who have completed their course, with grins all round!
When and where did you start diving?
Growing up, I had always spent a lot of time in the water. For example, when I was a kid I used to think it was funny to hide from Mum by staying down at the bottom of the pool for as long as I could. Scuba diving started when I did a PADI Open Water Course at University, a long time ago!
I was then mainly tropical diving on holidays until I had more time in Melbourne, where I became addicted to the waters here.
When and where did you become a PADI Divemaster?
I became a PADI Divemaster in 2011 with a great bunch of students.  Kat Vcelka was our fantastic PADI Instructor from Academy of Scuba in Victoria.
What made you choose to become a PADI Professional?
Diving is so much fun, so who wouldn't want to spend more time in the water! Seriously, I wanted to learn more and also be involved with showing others how fantastic it is.  I didn't realise until I started to work with different Instructors how everyone has their own approach to teaching and it's a great way to learn. It is also a stepping stone towards being a PADI Instructor, one day!
What highlights do you recall from your PADI Divemaster course?
The in-depth learning was very interesting – I absorbed so much more about diving.  The skills were a challenge, but lots of fun to do and also hearing about all the terrific diving stories from our PADI Instructor.   And then finally getting to assist as an intern on the courses.
What dive locations are on your bucket list and why?
So many, but Galapagos Islands for the diversity of animal life both on land and in the water, Truk Lagoon for the wrecks and anywhere at all to see Whale Sharks!
What has been the most memorable dive of your life?
Sipadan Island in Malaysia, where in one dive, due to the steep drop offs, we saw the ultimate combination of masses of tropical fish along with the pelagics in the deeper water.
What words of advice and encouragement would you give to divers thinking of becoming a PADI Divemaster?
If you love diving, want to learn more and find helping others rewarding, have a chat to your local dive store – or other Divemasters and Instructors to understand more about what is involved.
Are you interesting in finding out more about the PADI Divemaster course? See our website for details.