PADI recently released an updated version of the PADI Open Water Diver course. Just for fun, we thought we'd share with you some of what goes into producing new PADI materials. We sat down with PADI Media Producer Niccole Chicca-Sherman to get the behind-the-scenes scoop.
If Niccole's name isn't familiar, her face certainly should be. In addition to coordinating PADI's multiple photo and video shoots throughout the year, Niccole is often talent as well. In fact, she is literally the face of the new Open Water Diver manual.
We asked if Niccole knew when the photo was taken that it would be on the cover. She said: "I was totally surprised! Also…I don't think it looks anything like me. People who know me ask, is that you?"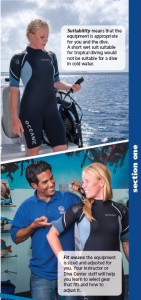 Planning, shooting and editing the new materials took more than 18 months. "We started preparing for the Open Water Diver shoot in 1st quarter of 2012," Niccole said. More specifically:
"The multi-location shoot for the PADI Open Water video took two and a half months. Pre production is 50% of the process, the shoot itself is 10% and editing / layout and post production is 40%." The materials were ultimately released in late 2013.
As much planning as possible goes into the shoot, but  sometimes changes have to be made on the fly. One example Niccole shared with us: "We wanted to take a balloon from depth to the surface to show expansion but we ran out of time so we had to show it in animation."
Changeable weather and dive conditions are always a factor, and so are other members of the crew. Still photos and video are typically not shot at the same time: "We don't want the photographer's strobe going off in the background of our videographer's shot," Niccole explained.
Interesting facts:
On the shoot, the crew works (on average) 12 hours/day
The team brings 28 bags of scuba and photo equipment
The video was filmed on a RED camera – nearly ten hours of footage/day
The still photographer shot 6,000 images over 13 days.
No dialogue was recorded. All PADI videos utilize voiceovers in different languages.
Niccole explained, "We have to be careful that if the talent is speaking that they say things relevant to the scene. Even if the dialogue isn't recorded, there are divers who can read lips."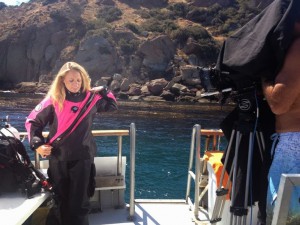 Interested in being in a PADI Video?
"We're always looking for talent!" Niccole said. "We look for divers with a Divemaster rating (or higher) and excellent buoyancy skills are a must."
Other important factors are a good attitude, and strong work ethic: "We all work together….everyone picks up a bag, you don't ask who's it is. " Niccole said. "Another misconception is that we all get our own hotel rooms. We don't, but we kind of become a family for seven days."
To read more about working as an underwater model, read our interviews iwth Estrella Navarro Holm and Hernan Bermejo. If you're interested in applying to be in the next PADI shoot, and are a Divemaster or higher, send two headshots (topside preferred) and the city and country where you currently live to Niccole dot Sherman at PADI dot com.