It was a good day for conservation on the 25th April 2014 when PADI 5 Star Instructor Development Centre, Downbelow Marine and Wildlife Adventures joined forces with Hyatt Regency Kota Kinabalu for a day of awareness and fund raising, including a cleanup and mangrove planting project at Gaya Island, Borneo.
As the host, Managing Director and PADI Platinum Course Director, Richard Swann welcomed the 26-strong team from the Hyatt Regency to Downbelow. They kicked off the day with a briefing and presentations that touched upon the subject of marine debris, how it is affecting the environment and what can be done to tackle the problem.
With everyone on the same page and a strong focus on an environment without rubbish, the day's cleanup event started. The goal was to clean the shoreline including the rocky areas where trash usually gets trapped in between the rocks. The cleanup lasted until noon and everyone was then treated to a delicious lunch at Downbelow's Beach House.
With everyone now energized, it was time for the next event which was the mangrove planting activity located in the swamp area near the beach.
Mangrove plants are very beneficial to the environment as they become an active participant in the ecosystem. Among their contributions are maintaining the ecological balance of nature, providing shelter for wildlife and a place for small creatures like birds and crabs to forage for food. They also reduce water pollutions and protect the coastlines.
Richard Swann adds, "With assistance from the local authority on nature, Sabah Parks, we selected our sites and began to plant mangroves. It felt rewarding because as equally important as the cleanup, this initiative had the theme of "investing" something for the future. It was a unique experience."
As the day's event came to a close, everyone was overjoyed when it was announced that the marine debris collected earlier in the day had been weighed and the total amount was 347 kilograms! The team reported they felt good to have collected so much – but not in terms of the amount of trash that was polluting the beach!
This was a non-profit day with both companies supporting the cause to generate a donation of RM1,250.00 (AUD 416.00) for the Project AWARE Foundation.
As mentioned earlier, it was a beneficial day for conservation and Downbelow Marine & Wildlife Adventures hope more organizations from their city will come forward and do their bit for the environment!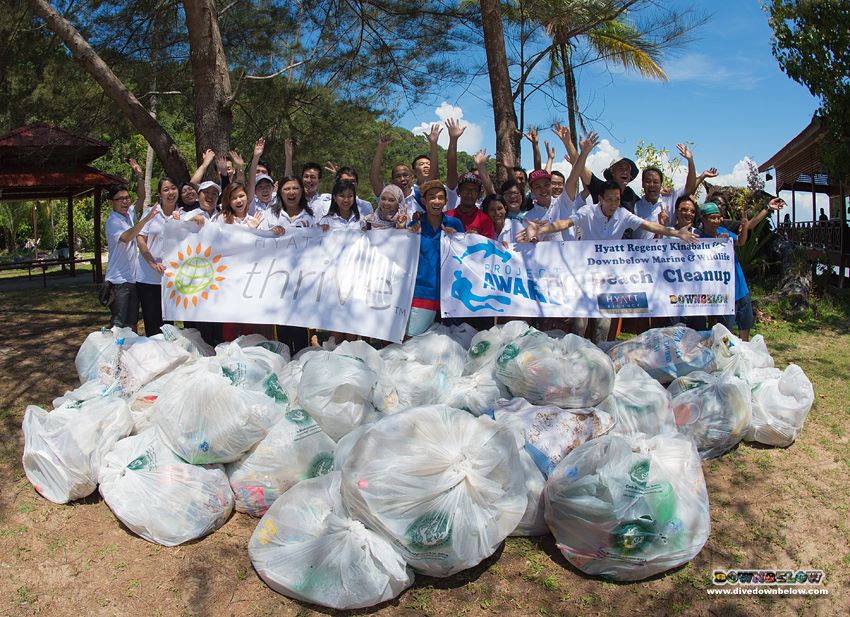 "Downbelow Marine & Wildlife Adventures are passionate about the environment. Spreading awareness to our local community on what threatens our oceans and what we can do to help is a priority – including raising much needed funds for organisations such as Project AWARE. Downbelow are delighted again to team up with Hyatt Regency Kinabalu who share this passion."
– Richard Swann, Managing Director, Downbelow Marine & Wildlife Adventures
For further information visit: www.divedownbelow.com