If you happened to be passing through Kuala Lumpur International Airport over the past month, chances are you would have seen TV footage of four PADI Junior Open Water Scuba Diver students from Kids Scuba, Malaysia, filmed during Mabul World Turtle Day 2013.
The kids are shown scuba diving and receiving their PADI Junior Open Water certificates presented by the Assistant Minister of Tourism, Culture and Environment, YB Datuk Pang Yuk Ming during the official launch of Mabul World Turtle Day 2013.
The short film was aired on all KLIA TV screens throughout the airport during April and May.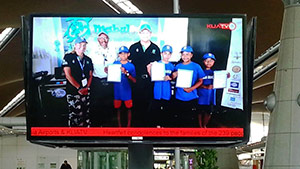 The Mabul World Turtle Day program held in Mabul Island was in collaboration with Borneo Marine Research Institute (BMRI) of University Malaysia Sabah (UMS) in conjunction with the World Turtle Day 2013 from May 22-24.
The four PADI Junior Open Water Divers – Danial Hafiz, Nur Qamarina, Nur Ainah and Najwa Amni were specially trained in Mabul Island by Syed Abd Rahman, PADI Master Scuba Diver Trainer, Kids Scuba and his team – three days prior to the program for the kids to witness the underwater turtle catching and tagging process for scientific research.
You can see the short film from Mabul World Turtle Day featuring Kids Scuba that was screened recently at Kuala Lumpur International Airport, via this YouTube video