Apart from offering beguiling cultural experiences and culinary delights, Malaysia is renowned as a diving mecca, where the marine life is as varied and countless as the number of dive hot spots you have to choose from.
The diversity of dive sites, coupled with the availability of PADI Dive Shops in each location, provides the perfect structure for water enthusiasts to take those initial breathes under the water and complete the PADI Open Water Diving Course, or perhaps continue their dive adventure with one of the PADI Specialties.
Whether it be Peninsula Malaysia or Malaysian Borneo, here's a shortlist of some of the dive opportunities available.
Miri
Home to a broad range of reef structures, you can choose between diving the likes of the coral encrusted Siwa Oil Rigs, the WWII wreck of Japanese ship Atago Maru, or Eve's garden which showcases 15 types of reef formations and is perfect for learning to dive. When you consider the fact that the Miri-Sibuti National Park is the breeding grounds for 600-800 species of coral, it's no surprise that divers here witness an abundance and diversity of marine life.
Kota Kinabalu
Kota Kinabalu, or KK as it is affectionately known, is a fantastic base to head to the nearby Tunku Abdul Rahman Park, a string of 5 islands and their fringing reefs that host some incredible underwater sights. The dive sites and marine life found in these sumptuous waters are distinctively beautiful and diving here presents yet another occasion to come face to face with some of the most varied and exotic marine life in the world. Look for curious turtles amongst the superb macro life.
Kuching
Perhaps one of the lesser known areas for scuba diving, Kuching is a hidden gem. Historical WWII wrecks line these shores, coupled with sunken commercial ships and artificial reef wrecks, providing ample for the most avid wreck diver to explore.  In addition to wreck diving, a short speed boat ride from Kuching, on Satang Island, divers can investigate the emerald green waters that provide homes to some of the oldest sea turtles.
Tioman
This lush tropical island is almost 98% jungle, surrounded by pristine beaches, which lay the foundations for exciting underwater terrain ready to be explored. With over 20 dive sites bordering the island you have the underwater world at your doorstep. Schools of batfish, trevallies and snapper are interspersed by sting rays, giant grouper and immeasurable numbers of both hard and soft corals.
Redang
White sandy beaches and crystal clear waters may tantalise topside, but it is what lies beneath the surface that makes visiting Redang Island a must. Strong currents can have you drift diving past pinnacles, boulders, and seamounts.  See clusters of black corals, schools of barracuda and parrotfish, and plenty of turtles, tuna, and other big sea creatures.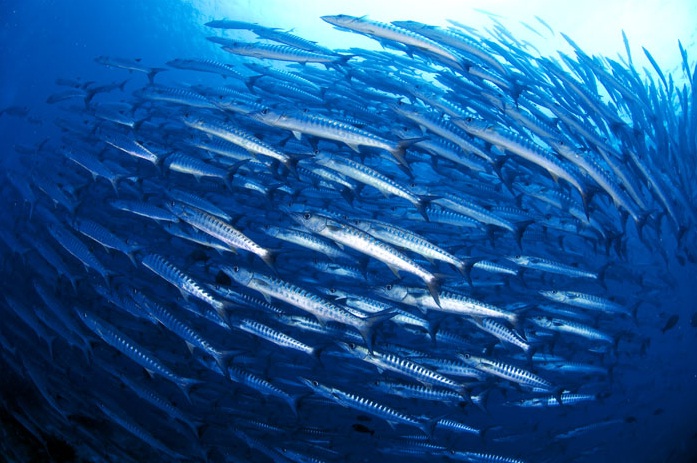 Perhentian Islands
Warm waters with rich biodiversity is synonymous with the Perhentian's and is why so many divers frequent this pair of small islands off the east coast of Malaysia. Many species of sharks have been spotted alongside triggerfish, moray eels and rainbow runners. Don't miss the Sugar Wreck, a large freighter that sank in 2000, or Seahorse Drift for a sunrise muck dive.
Locate a PADI Dive Shop today or visit the PADI Vacation Spotlight for more information on the diving Malaysia has on offer.