As part of PADI's efforts to grow and support the diving industry in China, 8 Candidates gathered at the Olympic Yacht Club, Qingdao, China from 18-20 July, 2014 for the very first PADI Instructor Exam to be held in the city.
Well tutored by PADI Course Directors, Eric Law and Atsumi Nitta, all students successfully completed the exam to become PADI Instructors. The event was hosted by PADI Dive Centre, Qingdao Honour-Blue Dive Club.
Qingdao is one of China's larger modern cities located in Jiaozhou Bayon the Shandong Peninsula in north eastern China.The Sailing Regattas of the 29th Olympic Games in 2008 as well as the 13th Paralympic Games were held at this location, now called Qingdao International Marina & Olympic Sailing Center.
The region experiences a very short summer period from July to September with temperatures to 38˚C and water temps around 21˚C.
PADI Instructor Examiner, Rommy Cheung reports that the Open Water assessment of the Instructor Exam took place next to the Olympic Yacht Club pier where there were crowds of tourists close by watching the program. Many people showed a great deal of interest and enquired how they, too, could become scuba divers.
Congratulations to the new PADI Instructors in China!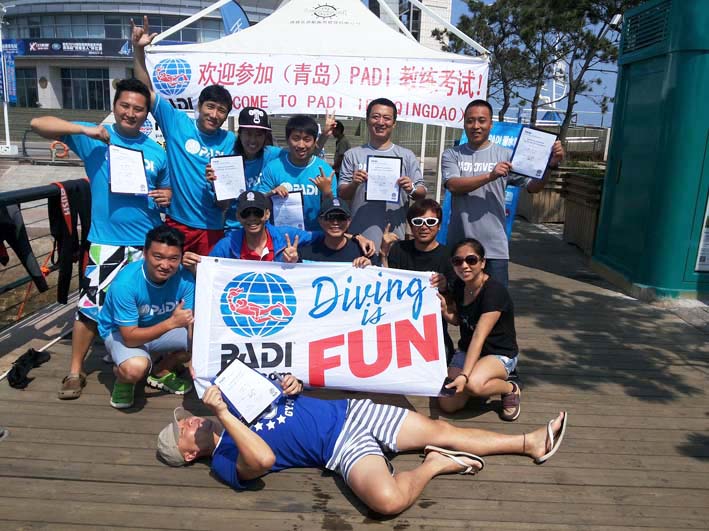 Backrow: New PADI Instructors:  Ke Zhang, Shum Guo, Ke Peng Liu, Shun Sun, Jian Zhou and Jia Fei Liu
Middle Row: New PADI Instructor Yeung Choi, PADI Course Director Eric Law, PADI Instructor Examiner  Rommy Cheung, and PADI Course Director Atsumi Nitta.
Centre Front: New PADI Instructor Hong Hao Li.