Comprised of hundreds of islands, Hawaii is a tropical escape that most have on their bucket list. So where do ScubaEarthlings suggest heading to for top diving?
Hawai'i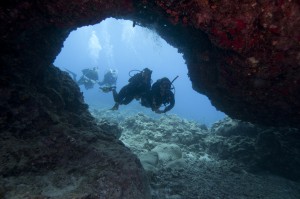 A manta ray night dive just off the shore of Kona is a must do for visitors to the 'Big Island'. The dive site is known either as Garden Eel Cove or Manta Heaven, and it promises to be a surreal experience with the jet black water a stark contrast to the majestic creatures soaring above to feed on plankton. As a relatively new dive site, Mala Pier is also a worthwhile spot to investigate. After being destroyed by a hurricane in 1992 the wreckage today provides homes for countless types of sea life, with the damaged structure creating perfect hidey holes for nocturnal dwelling species and coral growth.
Kaua'i
The signature dive of Kaua'i sees divers plunge into the Sheraton Caverns where ancient lava tubes form maze like caverns and provide homes to an abundance of friendly sea turtles. Navigating your way through these archways and tunnels will have you encounter many curious critters from eels to octopi and even white tip sharks cruising by.
O'ahu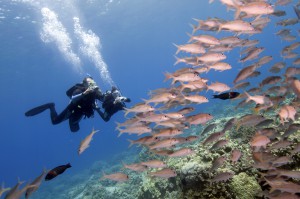 The state fish of Hawaii, the humuhumunukunukuapuaa, can be spotted on dives off this island, and spotting it is definitely easier than pronouncing it! More commonly known as reef triggerfish, the humuhumunukunukuapuaa can be seen in Hanauma Bay, a volcanic crater now brimming with colourful marine life. Other notable dives include a dip in Electric beach or Koko Crater, a regular haunt for green sea turtles.
If you want to learn more about the latest conditions, recent logged dives, photos, local dive shops and much more, simply register or log on to www.scubaearth.com