Success comes from striving to be the best – and for 19 PADI Members representing China, Taiwan, Hong Kong, Malaysia, Japan, Philippines and Indonesia – this led them to the PADI Course Director Training Course conducted from 26th August to 3rd September 2014 at the Hilton Sanya Resort & Spa, Hainan Island, Sanya in China.
Training with PADI Staff, and supported by PADI 5 Star IDC, Diving Best Resort, these professionals joined the elite group of PADI Course Directors and attained the highest and most respected professional rating in recreational scuba diving.
This year the PADI Course Director Training Course in Sanya was conducted by James Morgan – Vice President of Training and Customer Service, PADI Americas along with PADI Asia Pacific Instructor Development staff Colin Melrose, Thomas Knedlik and Roger Sun. PADI Course Directors Rommy Cheung and McGill Cheng did a great job assisting with translation.
Less than one percent of the PADI Membership has earned the PADI Course Director rating.
Selected candidates conduct all PADI certification courses and have earned the PADI Master Instructor, PADI IDC Staff Instructor and Emergency First Response Instructor Trainer ratings while embodying role model standards.
The PADI organization has offered the Course Director Training Course for more than 30 years," says James Morgan, Vice President of Training and Customer Service, PADI Americas. "This program is unique in the dive industry – you can't just pay to get in – and it offers the broadest scope of training and education available. For nine days, candidates use what is often a lifetime of experience to earn the rating. The entire PADI organization proudly welcomes them into the family of PADI Course Directors worldwide."
From day one, candidates learn from a variety of presentations, workshops and exercises, and complete intensive classroom and inwater evaluations. Each day, Course Directors develop the tools to help them thrive in today's business climate, including sessions on marketing instructor development courses. As the best-of-the-best, graduates are highly employable after they successfully complete the PADI Course Director program.
Special thanks are due to Diving Best Resort in Sanya. Their dedication and support helped make the Sanya 2014 PADI Course Director Training Course a great success.
China was selected as one of only three destinations to host a PADI CDTC in 2014. There are amazing and endless opportunities for Chinese speaking PADI Professionals to work in China and all over the world. If you want to attend a PADI CDTC in future years, your next step is to Go Pro and become a PADI Professional.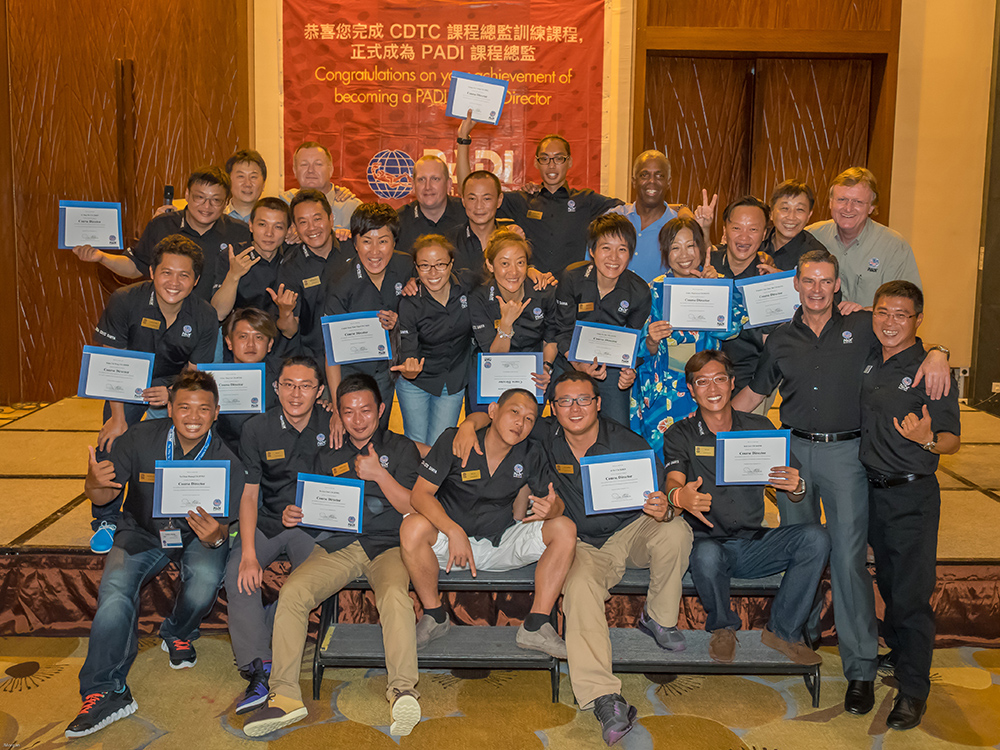 The best-of-the-best, 19 new PADI Course Directors with PADI staff at the conclusion of the PADI Course Director Training Course in Sanya, China.
Cheng -Jie (Eric) Liu, Chee Weng (Danny) Leong, Bo (James) Li, Fang Yu Tai,Ken Lee, Asako Fujimura, Chan Jin (Frankie) Lim, Yu Tong (John) Wu, Zhen-Xi (Tiger) Deng, Yu-Chun Huang, Ding Hui (Linda) Li, Yuan-Chi Peng, Jing (Jeanne) Zhu, Guan Ting Lai, Yuen Man (Connie) Chan, Yixuan (Eric) Liu, Yu Jun Chen, Neng-Jen Tsai, and Yi Chao Chen.