With a coastline characterised by step cliff faces, rocky platforms and great surfing beaches, you would be amiss not to sink your teeth into the diving on offer along the famous portion of coastline known as the Great Australian Bight. With Adelaide right around the corner this is the perfect place to base yourself for you next diving getaway.
Denise and Ron van der Marel, PADI Instructors and owners of Diving Adelaide reveal some of the great diving secrets that both Adelaide and South Australia hold. "Even though many tourists won't think about Adelaide or South Australia right away when they are thinking about diving in Australia, Adelaide and South Australia actually have a massive diving scene! There are plenty of PADI dive shops around the city and heaps of local dive clubs as well. Whatever you are looking for, you can find it all in and around Adelaide."
Denise and Ron have both travelled around Australia diving and maintain that one of the must-sees while you are in Adelaide is the beautiful Leafy Sea Dragon. "The Leafy Sea Dragon is endemic to Australia and for the most part to South Australia. The best spots to see them are actually two of South Australia's most popular shore diving spots. Both the old Rapid Bay Jetty and the Bluff at Victor Harbor are excellent sites to see the marine emblem of South Australia and both sites are only an hour and a half drive away from Adelaide. Especially Rapid Bay, which is a stunning dive site on its own, with massive schools of fish and gorgeous bright colours on the jetty pylons."
However, the leafy sea dragon is not the only iconic marine life to be spotted in South Australia. Seals and sea lions provide ample entertainment, and although you have the chance to meet one at most dive sites, there are a couple of locations where you are most likely to spot them; Pot Giles Jetty on the Yorke Peninsula being one of them.
Whilst visiting the Yorke Peninsula make sure you dive at the Edithburgh Jetty for another one of South Australia's great diving gems – Macro life set against a fabulous backdrop of jetties. Included on Denise's list are angler fish (plus the Tassled Andgerfish), the striped pyjama squid and dumpling squid (which are in fact cuttlefish despite their name), blue ring octopus, seahorses and much more.
If it's cuttlefish you so desire than head up the coast to Whyalla, where, in the winter months, it is giant cuttlefish spawning season. You are sure to be captivated by the spectacular scene as they notoriously change both their colour and texture to blend into their surrounds.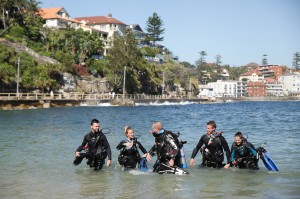 The enticing coastline not only promises to treat divers to an array of unique marine life, but also deliver on outstanding wreck dives. "More than 800 ships are known to have wrecked of the South Australian coast and plenty of other ships were purposely sunk to form artificial reefs for scuba divers. This creates a wide diversity for scuba divers. In 2002 a Guided Missile Destroyer, the Ex-HMAS Hobart, was scuttled.  It now forms a beautiful dive site on the Fleurieu Peninsula at 30 metres of depth, and can be dived on slack tide once every day. Another popular wreck dive is the South Australian, which is locally referred to as the Glenelg Dredge. It was sunk on purpose off metropolitan Adelaide and is a lovely wreck for scuba divers to dive on with easy penetration."
With plenty of cafes, shops and bars, the topside treats of South Australia are also sure to tempt any traveller. Great wine regions are found not too far from Adelaide, including the world renowned Barossa Valley. The Flinders Ranges are a gateway to outback Australia and visitors can reach the salty Lake Eyre via the iconic Old Ghan railway.
The above sites and destinations are just the start of the diving opportunities available in South Australia. For more information about diving in South Australia, locate a PADI Dive Shop.